Visitation: 9 a.m. to 11 a.m. Thursday, November 7, 2019 at Fricke-Calvert-Schrader Funeral Home, Lincoln
Service: 11 a.m. Thursday at the funeral home
Funeral home: Fricke-Calvert-Schrader, Lincoln
Obituary
Vivian I. Skelton, 85, of Atlanta passed away on Saturday, November 2, 2019 in her home.

Vivian was born on February 26. 1934 in Menard County, the daughter of Samuel and Lottie (Whiteman) Banister. She married James S. Skelton on November 30, 1958 in Menard County. He preceded her in death on September 11, 1988.

Vivian is survived by her children, James (Anita) Skelton, Jerry Skelton, Connie Haney, Christine (Roger) Shaub, and Charlotte (James) Jones; her 11 grandchildren; 27 great-grandchildren; and her 8 great-great-grandchildren.
Vivian was preceded in death by her parents, two brothers, Vernon and Charles Banister; and her five sisters, Evelyn Ware, Deloris Armour, Phyllis Deavers, Kathleen Voyles, and Darlene Tibbs.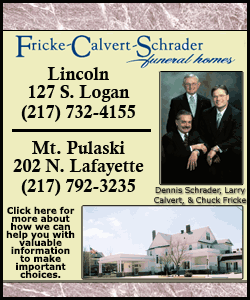 Vivian worked for the Stetson China Factory and the bottle factory. She was also a member of Church of God in Lincoln.

Services for Vivian will be held at 11:00am on Thursday, November 7, 2019 at Fricke-Calvert-Schrader Funeral Home, Lincoln. Visitation will take place two hours prior to the service (9:00-11:00am) also at the funeral home. Burial will follow the services at Lucas Chapel Cemetery, Lincoln.

Memorial donations may be made in Vivianís name to the donorís choice.
Click here to send a note of condolence to the family of Vivian I. Skelton