Experienced composters advance their skills at local extension workshop



Send a link to a friend Share
Within a matter of days, the compost workshop offered by University of Illinois Extension, Fulton-Mason-Peoria-Tazewell Unit filled to capacity. Composting is a "hot-topic" literally and figuratively. Duane Friend, Extension energy and environmental educator, along with Dr. Paul Walker, retired Illinois State University professor taught 35 people the practical application and the science behind composting at a workshop held in March at the Tazewell County office.

"It was a nice mix of people," mentioned Christine Belless, ag and natural resources program coordinator. "We had a lot of Master Gardeners and Master Naturalists who will use the information for both their home composting as well as educating others. There were also 14 who indicated their composting practices are part of a community garden."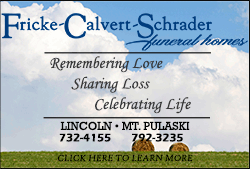 Duane stated several benefits to composting during the class: adds organic matter to the soil, improves water retention in sands, improves movement in clay soils, attracts earthworms, provides limited nutrients, and suppresses certain diseases. A pre-workshop survey indicated most participants (84%) were already composting. All of those composters were actively adding the correct type of materials into their mix.

"From our post-workshop survey sent 5 months after the workshop, we learned just over half of the group began applying the science of the carbon to nitrogen ratio to their composting practices," mentioned Christine. "We also tracked behavior changes that indicated participants began adding additional materials such as shredded newspaper, old soil after repotting plants, husks, stems, and coffee grounds."

Duane taught a carbon to nitrogen ratio of 25:1 is ideal for rapid composting. Blending materials also plays an important role in speeding up the process.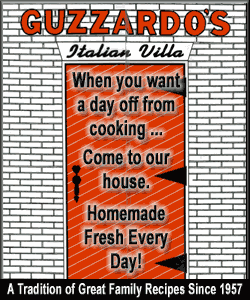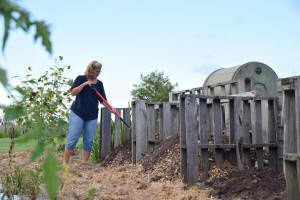 "I started being more intentional about layering the different materials I put into my compost pile," explained Master Gardener and workshop participant Trudy Yazujian. "I also made some changes to help with the carbon to nitrogen ratio, and I noticed my compost pile heating up better."
Other survey results indicated 47% of participants began monitoring moisture and temperature levels of their compost. Some monitor by touch and others noted they are using a thermometer. Duane noted that composting does not have to be rocket science. He encouraged everyone to use what suits their lifestyle.

During the five months between the workshop and follow-up survey, 47% of participants made structural changes such as buying a new compost bin or changing locations of their bin or pile. Some started composting for the first time.

When asked what they do with their finished compost, survey respondents offered a variety of descriptions such as soil amendments in vegetable and flower gardens, media for new plantings or transplanting shrubs and flowers, ingredients to enrich potting soil from previous seasons, and donating it to community gardens.

University of Illinois Extension offers a variety of programs and educational materials related to horticulture and natural resources. Visit the local Extension office or online at https://extension.illinois.edu/fmpt to get connected with Extension staff and upcoming events.
[Anita Wilkinson
Communications Program Coordinator
UNIVERSITY OF ILLINOIS EXTENSION
Fulton-Mason-Peoria-Tazewell Unit]