Eaton management takes a pie in the face for breast cancer awareness

Send a link to a friend Share
[November 04, 2019] This year, in addition to the Pink Pumpkin Auction, the Friends and Family Relay Team issued what they called "Pink Challenges" to raise money for the American Cancer Society and breast cancer awareness.
The challenge was for each business or organization to create its own fundraiser within its staff and raise money to be donated to the ACS through the Relay for Life of Logan County.

Several took the challenge and since the first of October, LDN has run several photos of fundraisers held for the pink challenge.

Among those participating was Eaton Corporation in Lincoln. The group went all out, holding a number of activities throughout the month, some for money and some to just raise awareness. Among the fun events they held was a random photo collection that was on display at the factory showing various staff dressed in their pink shirts.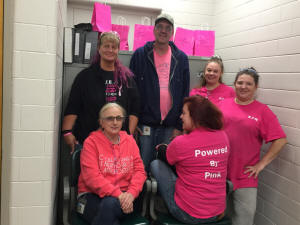 The shirts themselves were a fundraiser for ACS. The special designed pink shirt that read on the back "powered by pink" was sold to the employees with the profits from the shirts going into the kitty for ACS.


Another activity at the plant raised awareness, money, and laughter as employees purchased tickets to get the opportunity to put a pie in the face their supervisor!

That activity was held at the end of the month, and the pie in the face proved to be hilarious for those watching it all take place, and the ones who earned the special treat took it with very good humor.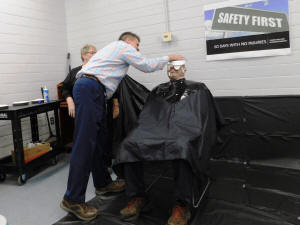 Scott Goodman took a pie twice for the cause. The first time he was prepared as Thomas Jefferson smacked the pie into his face. Goodman and Jefferson are both in management at the plant. It was fun to see them. But the second pie was more or less an ambush.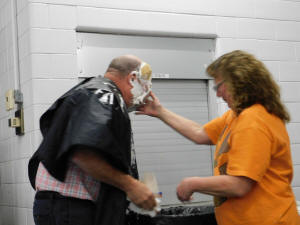 As Goodman was standing at the trash can ridding himself of residue pie, co-worker Diana Stoll hit him again! Stoll is nearing her 33rd anniversary with the company, so she got double her money on her tickets.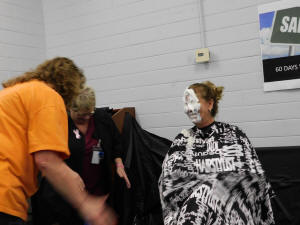 Stoll also got a good hit on co-worker Sandy Swearingen. Sandy is the Manufacturing Coordinator with Eaton.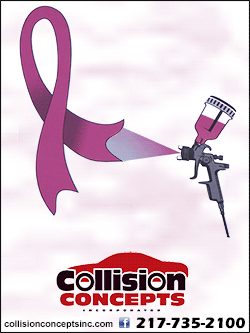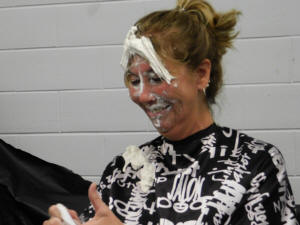 Sandy and her husband also gave a little extra for the pink challenge. They paid the printer's set up fee for the shirts, making it that much easier for Eaton to sell the shirts with a profit built in for ACS.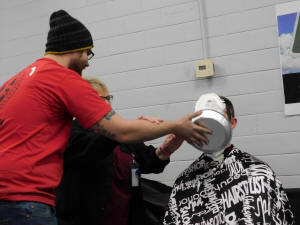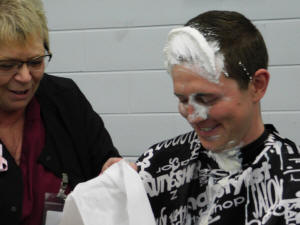 More fun in the face came for Chris Mechling (stocking cap) who plastered Production Manager Matt Flynn. Just a bit of trivia, Matt's face was the one who sold the most tickets in this pie in the face fundraiser.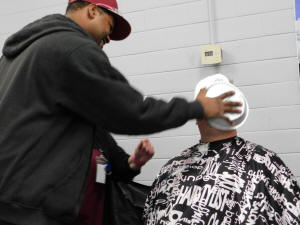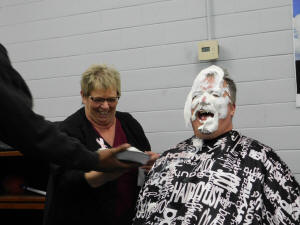 And of course, it wouldn't be a day of pie in the face without hitting the big boss. Plant Manager Erik Olson came prepared, wearing his pink shirt, he took his seat and graciously took his pie!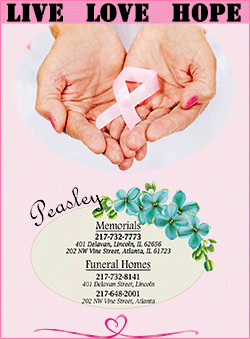 At the end of the month, Ginger Musick who worked to coordinate the fundraising efforts at Eaton said that the group had come very close to raising $2,000 for the American Cancer Society. She also said that she had five shirts left to sell and she was determined to get someone to buy them. If she can, they will meet that $2,000 goal.

Thanks so much to Ginger as well as the entire staff at Eaton. Your contribution to the ACS will be earmarked for use in Logan County for breast cancer awareness and support.

[Nila Smith]