New billboard memorializes local farmer Dale Lessen
Raises awareness for organ donation



Send a link to a friend Share
On Monday morning, a large group gathered in the parking lot of the Carpet House in Lincoln. Their visit to the lot was to recognize a new billboard in Lincoln that memorializes the life and generosity of a local farmer, the late Dale Lessen.

On April 17th of this year while working in a farm field, Lessen collapsed. His hired hand, Randy Grohmann was with Lessen. He called for help and began CPR. When help arrived, it was too late to save Dale, but it was not too late to keep his body in stasis while being transported to a hospital where he would later pass. Because Lessen was a registered organ donor, he was kept on life support while arrangements were made to harvest his organs and provide second chances at life to many others who were anxiously waiting for an organ transplant.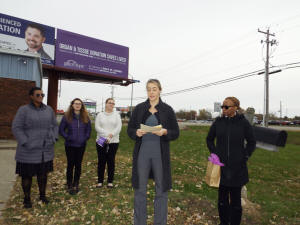 This week, the Gift of Hope unveiled a billboard in Lessen's memory, the first of its kind. In a brief ceremony at the foot of the billboard on Woodlawn Road, Sarah Wieber, Gift of Hope After Care Specialist, spoke about the billboard and Gift of Hope.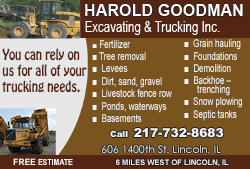 She began with thanking the Lessen family for their support in getting the billboard placed and also their tremendous support in promoting organ donation in the community. She added comments about their extreme generosity and sacrifice. Wieber said, "Dale's family is a complete reflection of him. Their eager commitment to help as many people as possible by spreading awareness of donation is a direct reflection of the way that Dale would jump into action to help anyone and everyone in need."

Wieber done some online research, visiting social media to see some of the comments that have been made about Dale since his passing.

"He was loving, caring, compassionate, hardworking, honest, bright, truthful, helpful, kind and generous."

"He was a loving husband, a best friend, and the best dad in the world."

"He had a giant heart and was the kind of guy that people were proud to know."

Wieber paused then said that she would read the last and her favorite comment that had been posted by Dale's wife Sarah. "Dale was a hero long before he saved lives, and now he is a Super Hero."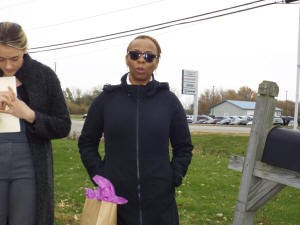 Marion Shuck, Director of Community Affairs and Donor Family Services also spoke on behalf of Gift of Hope. She said that while putting this billboard together there were many people involved, all working in partnership. She said that Gift of Hope enjoyed working with the partners and the Lessens to get the billboard. She noted that this was the first billboard down-state for Gift of Hope. She said that the donor families are important and mean a great deal to the Gift of Hope. She had met Dale's wife Sarah and had enjoyed hearing stories about Dale and the kind of person he was and still is through his donation. She expressed her sincere gratitude to the Lessen's for supporting and honoring Dale's wishes and offered them a gift to commemorate the billboard.


The official ceremony was then concluded and Wieber invited those on hand to join her and Shuck at the Cracker Barrel where they could share time together in remembrance of Dale Lessen.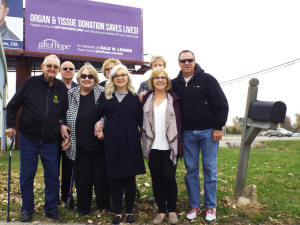 Before leaving the parking lot, the members of the immediate family gathered for a photo with the billboard as a back drop.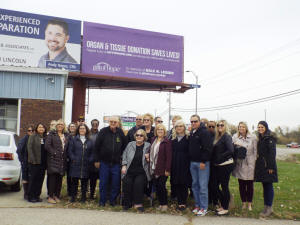 Then the entire group who was on hand for the unveiling gathered for a second group photo.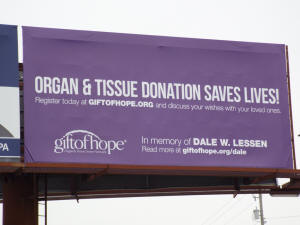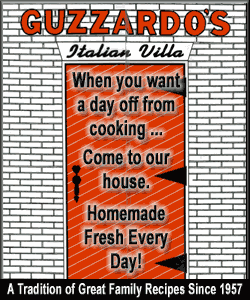 Family members on hand for the ceremony included Dale's wife Sarah, daughter Shelby, his father Bill Lessen, sisters Colleen Anning, Linda Maxey, Susan Gehlbach and brothers-in-law Jim Gehlbach and Mark Isbell.

Since Lessen's passing, his generous gift has touched the hearts of many people. In June, Dale was made an honorary chairperson at the Logan County Relay for Life event held at Lincoln College. Dale's sister Susan Gehlbach spoke on behalf of her sister-in-law Sarah.

At Relay for Life, Gehlbach explained that Dale had collapsed from a brain aneurism. She told the crowd that Lessen had been a long time sponsor of Relay for Life and had been a member of the Angels All Around team.

In June of this year, Lessen was the topic of a story written in Farm Progress Magazine. In the story the Lessens talked about the days that followed Dale's collapse. They learned from Gift of Hope that while many people register to be organ donors, there are very few who are able to be kept alive long enough to coordinate an organ harvest. Statistically, only three out of every 1,000 registered donors end up actually giving.

The Farm Progress story relayed some important insights into the journey for the family.

From Farm Progress Magazine:

Dale's sister Colleen Anning notes, "He lives on in others," and that while they didn't have to stay with Dale during the harvesting process, doing so helped the family see a positive glimmer grow from the tragedy.

"They'd tell us in the waiting room every time they found a new match for his organs; and instead of crying, we'd just start cheering," daughter Shelby Lessen remembers. "It felt like a silver lining for us, instead of feeling like all this was for nothing. He's a true hero in our eyes."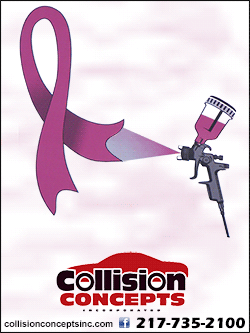 "We were so devastated and shocked. This was the only good thing that came out of everything that happened," Sarah says, adding that the family recently read an anonymous letter from someone who received one of Dale's kidneys.

"She's a grandmother — and now instead of being on dialysis and missing birthday parties, she's spending time with her family again," Dale's sister Susan Gehlbach says.

Instead of flowers on his casket, Dale was laid to rest with the Gift of Hope flag, which waved above Memorial Medical Center for three days after the organ donation. Hundreds lined the halls in the first honor walk ever held at Memorial Medical Center before his organs were ultimately harvested.

The Gift of Hope also has a feature story about Dale and the Lessen family and their journey through the donation and harvest process. The story is touching, as it talks about how the family and the community loved and respected Lessen and how that through an awful tragedy, a light of hope shines for others. That light warms the hearts of Dale's family and serves to help them take comfort in knowing that as Dale lived his life with purpose, his passing also had purpose and holds second chances for the many people who will receive organs thanks to Dale.

As the story on the Gift of Hope website comes to an end, it notes:

One of the ways Sarah and Dale's family are honoring his gifts and the lifesaving legacy he created is by becoming donation advocates and sharing their story to help increase awareness about the importance and significance of donation. But another unique and huge way they're honoring Dale is by purchasing space on a billboard in Lincoln, Ill., at the 1300 block of Woodlawn Rd. The billboard is a call to action to members of the surrounding communities to register to become donors and to ensure that their family members and friends know about their decisions by having the donation conversation with them.

"Everyone in town goes down that road," Sarah said. "I think it's going to be a good reminder because half the town knew Dale and knew his story. Even if we get one more person to sign up, it could save a life down the road. The more people we make aware of the importance of donation and the more people we get to sign up, the more my husband continues to be a hero. If this brings awareness to even one community, the billboard has done its job."

[Nila Smith]
Lives saved, thanks to organ donor farmer
CENTRAL ILLINOIS FARMER SETS OFF LIFESAVING DOMINO EFFECT