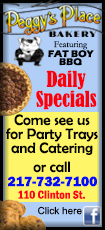 The ribbon cut is scheduled for 3:45 p.m. with the open house starting at 4 p.m. Cheri Leverton will be celebrating the relocation of her business from the former Krotz & Sons building on North Kickapoo Street to a new spacious location in the former Furniture Gallery Store.

Along with the open house, Bethany Rademaker, candidate for Logan County Circuit Clerk, will hold a meet & greet event in the shop.

For Leverton this move signifies a significant expansion of her wedding retail business. The business has grown over the year, and she is now in a location that is very well suited for more than 270 wedding dresses in stock, along with garments for the Mother of the Bride, Bridesmaid, Flower Girl and tuxedo's for the groom and other male members of the wedding party.

In addition to garments, Leverton sells a line of accessories for the bride, veils, and wedding décor from linens to beautify centerpieces for reception tables.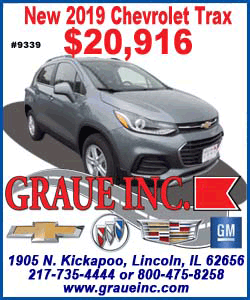 Recently Leverton explained the progression of her business. She's been offering wedding décor for more than 25 years. She started it as an at-home style business. While raising her children, she worked her business on a part time basis. When the kids were more grown up, she started working more often. About five years ago she got fully into the business and started working consistently.

Two years ago after the passing of Karl Krotz, Leverton and her husband George owned the former Krotz building. Cheri said that she and George had been working on a remodel of the ground floor of the store front. George said that they needed to start looking for renters for the building and Cheri said no, they weren't going to rent the building, she was going to open a bridal shop there.

Cheri said that George thought the idea was kind of out there, but he was very supportive and she set to work to build a business that had been her dream for a long time. The couple finished the remodel and she opened the shop with 1,200 square foot of space that she outgrew away too quickly. So, she began looking for another space for her shop.

The former furniture store was a great choice for Leverton. The building is much more spacious, and it is conveniently located for those coming from out of the area to shop for a wedding dress.

Leverton is also expanding her business, offering prom dresses and first communion dresses.

Leverton said that she has 270 wedding dresses in inventory in sizes ranging from size two to size 34. She said that to her it is very important that every bride to be have a dress to try on and feel good in, and that no bride should have to try on a dress that won't zip up. Also, finding smaller dresses is sometimes very hard. She recalled that when her daughter Aubrey was looking for a dress it was a challenge. Aubrey is quite small, and Cheri said that the fitter had to put clips all over the dress to fit it to Aubrey's body.

The dresses on hand at the shop are sample dresses. Leverton explained that a bride should start planning well ahead of her wedding date. One thing that should be done earlier rather than later is to choose a gown. The sample dresses allow the bride the opportunity to see and touch the gown, but the real deal should be a brand new dress not worn by anyone. The dress selected is then ordered from the designer and shipped to Simply Elegant. A fitting with the actual dress is then needed. At the fitting, the size of the dress should be right, but the fitting allows for adjustments to make the dress look perfect on the bride.



Leverton said she does not do the alterations in house, but instead uses a local seamstress, Georgia Green of Atlanta, for the majority of her sewing needs. Leverton said that Green does an excellent job. When the Atlanta seamstress is not available, Leverton also has a couple of other local people that she utilizes.
For the bride that is in a rush, Leverton said she does offer dresses off the rack, and from time to time, she pulls specific inventory and offers it on sale off the rack. She noted that right now she has 11 such gowns that could be purchased and ready for the bride relatively quickly.
In addition to bridal attire, Leverton offers formal gowns/prom dresses off the rack. Those dresses she said are in inventory and can be taken at the time of sale. She added that for prom season she also offers a dress registry.

With the registry she has a data base in her computer and tracks what proms the dress will be attending. She earmarks that dress and then when other young women come in to shop, she can tell them which dresses will be attending which proms. This prevents duplication of dresses from her store at least and decreases the possibility that two young women will arrive at the prom in identical dresses. She said that the girls really appreciate this service because each one of them wants to be unique, they don't want to see mirror images of themselves on the dance floor.

Of course, whether it be the bridal gown, mother of the bride dress or prom dress, the right accessories are key to accenting the dress in the proper style. Leverton offers jewelry to go with gowns, and also a variety of embellished belts that can be added to a simpler dress to make it a little more special and unique for the wearer.

Leverton said that she buys her dresses in person, attending special formal wear and bridal markets in towns such as Chicago and Dallas. She plans to this year attend a market show in Georgia and would like to someday attend the fashion show in Barcelona Spain.

Leverton said her customer base is far reaching. The furthest away bride she has on record was from Clinton Iowa. The bride to be had been looking for a specific style of dress and found it on the simply elegant website. She came to Lincoln and purchased her perfect dress.

In addition to the apparel, brides can do a lot of their reception shopping at Simply Elegant as well. Leverton offers a variety of table linens for rent. She even offers rental packages that include the linens for gift tables, cake table, head tables, guest tables, and also offers chair sashes and linen napkins.

Leverton said that the bride has the option for a 'do it yourself' rental or Leverton will come to the venue and assist with the set up for the reception. In addition, she has some amazing centerpieces that can be utilized.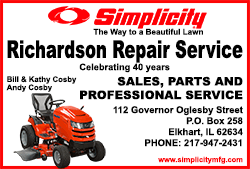 Laverton's new show room is very spacious with several seating areas for the bridal party. Brides to be can come in, choose dresses to try on, then come out and let her bridal party or family and friends offer their opinions in a very comfortable and relaxed setting.

On Friday evening, guests will be invited to come in, look over the inventory, enjoy some refreshments and visit with the owner and also see Circuit Clerk candidate Rademaker.

Leverton added that one fun feature she offers is the "virtual mirror" photo booth that brides to be and their friends and family shopping with them enjoy very much. The virtual mirror is a fun alternative to the "selfie." Guests can put personal messages on the mirror then pose for the pictures. The pictures are printed instantly and are a great way to commemorate the day of shopping for gowns.

Leverton said she will have the mirror available for guests Friday evening and is sure everyone will enjoy it.

In addition, there will also be some drawings held during the open house. Leverton did not elaborate, but one can expect that the gifts will be well worth having.

The Friday evening ribbon cut is being facilitated by the Lincoln Daily News ribbon-cut team. We invite the entire community to come out for the cut and stay for the open house. The cut will be at 3:45 p.m. with the open house running from 4 p.m. to 7 p.m.

[Nila Smith]