Children enjoy a day at Lincoln Heritage Museum and trick or treat with President Lincoln



Send a link to a friend Share
Saturday was chilly and wet with a rain that started in the morning and lasted all day long. While that type of weather is not conducive to outdoor play, it is the perfect backdrop for doing something fun inside. The weather may have been a driver to the number of children that turned out for Trick or Treat with Abraham Lincoln at the Lincoln Heritage Museum as the museum saw one of its largest crowds ever.

Children accompanied by adult family members streamed through the museum starting at 1 p.m. and throughout the afternoon, with the event coming to an end at 4 p.m.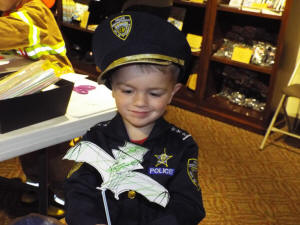 As they came into the museum, they were given the opportunity to do a craft project. Pages of Abraham Lincoln Vampire Bats were laid out for coloring. Kids could color their Lincoln bat then tape it to a plastic straw. Using the straw as a handle they then flew their bats wherever they went.

There was also a scavenger hunt to find particular items within the museum. Kids were given a laminated page of photos, each identifying an item on display either downstairs or upstairs at the museum. They took the photos with them on their tour and pointed out the items as they found them in the museum.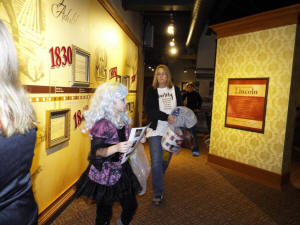 The hunt was an ABC hunt starting with artwork of Abe as the letter A. The "B" was a law book, "C" was cannonballs and "D" was drums. The hunt list continued through the letter N for newspaper.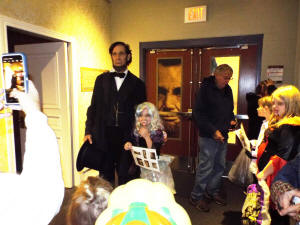 It would not have been Trick or Treat with Abe without Mr. Lincoln. The post-election Lincoln, complete with facial hair and top hat was on hand to go through the upstairs area with the children.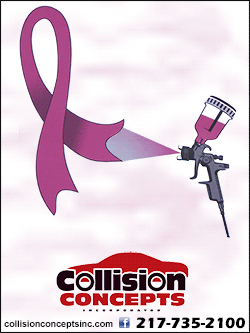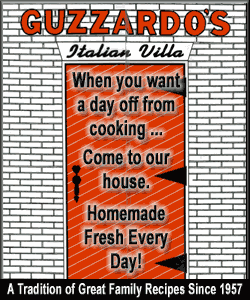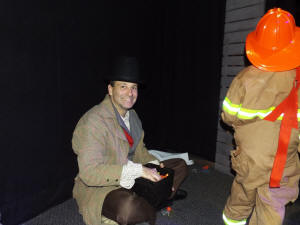 Upstairs, as children made their way through the museum, they encountered four different characters, all relating to Abraham Lincoln, Civil War history and Logan County. Ron Keller, portrayed an acquaintance of Lincoln's and taught the children how to play jacks before giving them candy and sending them on to the next person.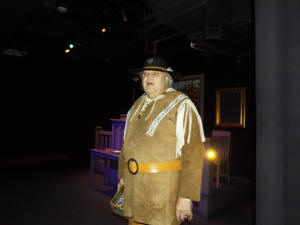 Reverend John Johnson portrayed Trapper John and met the children in the courtroom area upstairs.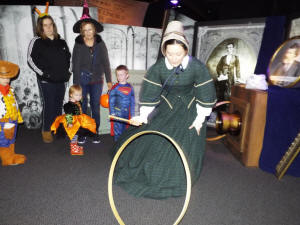 Around the corner, Lincoln Heritage Museum Director Anne Moseley portrayed a young lady from Atlanta who lived on a farm. On the farm she explained she had plenty of room to run and play and she enjoyed hoop and stick. She taught the children how to play.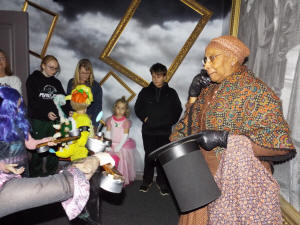 Harriet Tubman was the final stop. Portrayed by Kathryn Harris, who taught the kids how to play a toss and catch game using a wooden stick with two tin cans nailed to it.

Making the full trip around the upstairs, the last activity of the day was an opportunity to pose as Mr. and Mrs. Lincoln where parents were permitted to take a photo.

It was a good day at the museum with a large number of children getting the opportunity to see the museum while taking part in a seasonal activity that they all enjoyed.

The museum was also collecting food for Lincoln Logan Food Pantry. Several visitors brought in bags of canned goods to add to the collection box.

[Nila Smith]