How YOU can be included in the LDN ANIMAL STORIES magazine


Send a link to a friend Share
[January 15, 2020] Submit your
PET STORIES

FREE PET PHOTO CONTEST entry

TRIBUTE/ REMEMBRANCE for the Rainbow Bridge section
by mail, in person, email, or by FB Messenger. Logan County residents only.
Details to include:
PET STORIES:
Tell us your short story, how you and your pet found each other, how your pet is special in your life, or the adventure you and your animal have enjoyed together.

- Include your pet name, owner's name, your story in 250 words or less, and an optional large version photo or two.
FREE PET PHOTO CONTEST:
Click on the FREE PET PHOTO CONTEST form and print it out.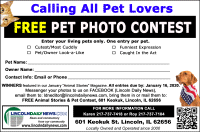 [click on this picture for the CONTEST form]
Mark which category you are entering, include pet and owner names. Submit form with large version photo.
Rainbow Bridge TRIBUTE/ REMEMBRANCE:
Submit a favorite pet remembrance or tribute for inclusion in our special "Over the Rainbow Bridge" section.
Provide pet and owner names.
Optional - add a brief remembrance (30 words or less)

Optional - add a large version photo

Optional - Donate to Humane Society of Logan County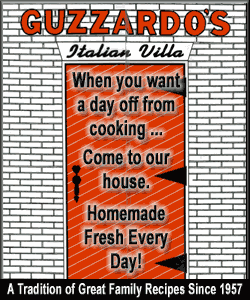 Humane Society of Logan County Fundraiser:
Make out donation check to Humane Society of Logan County ($10 is the suggested amount).
Here's how to get your submission to us:
By mail and hand delivery:
Mail or bring your submission to Lincoln Daily News, 601 Keokuk Street, Lincoln, IL 62656.
By email:
Send to ldneditor@lincolndailynews.com. Include (attached or embedded) photo in a large version and the information detailed.
FB (Messenger only):
We will also accept entries via Facebook Messenger. Message the information detailed and picture to the Lincoln Daily News Facebook page. PLEASE DO NOT POST your submissions directly on our FB page, as all submissions are to appear in the magazine first.
The deadline for submitting all entries for the magazine will be January 16th. Print photos may be picked up after this date and remain available until Mar 1, 2019.
[LDN]