Central Illinois Direct Care ribbon cut sees large turnout for Dr. Dru Hauter

Send a link to a friend Share
[January 27, 2020] On Saturday morning a very large crowd gathered in the compact lobby area of the Central Illinois Direct Care office at 1411 North Kickapoo Street in Lincoln for a ribbon cut to celebrate the new medical office of Dr. Dru Hauter.
With so many present, fewer than half of the guests on hand stood behind the ribbon with Dr. Hauter, but that group represented people who have been important to Dr. Hauter throughout the process of opening the new office.

Standing with Dr. Drew were his wife Dr. Marcia Hauter, daughter Emily Wilkins with husband Evan and baby daughter Parker, the Hauterís son Ben, Dr. Druís mother Sara and his sister Sally Hauter. Also joining him were Mr. and Mrs. Paul Short, the owners of the office building, Lincoln Mayor Seth Goodman, and Logan County Fair Queen Skye Kretzinger.

Included in the crowd there to witness the ribbon cut were several friends of the Hautersí. Also in attendance on Saturday were office holder and candidate Judge Jonathan Wright; other candidates - Bethany Rademaker for circuit clerk and Chris Sprague for coroner; Lincoln City Clerk Peggy Bateman; local business owner and Castle Manor Assisted Living Director Marcia Cook.

The ribbon cut was led by Nila Smith with Karen Hargis and Jim Youngquist of Lincoln Daily News.


Smith welcomed guests and congratulated Dr. Hauter on his new venture. She reminded guests that the Hautersí are long time members of the community who have been involved in many events and activities within the community including the former Together for Lincoln movement and the formation of the Lincoln Futbol Club and the city soccer complex development.

Smith said that Dr. Hauterís story reminded her of the farmer who retires and takes up gardening as a hobby. While always a doctor, after retirement he chose to practice medicine as his Ďretirement job.Ē She also noted to those present that the practice is unique and will offer new wellness opportunities for those who have very high deductibles in their health insurance or no health insurance at all, and that the office will be very good for young families with children because of the low monthly rate for family care. She concluded that what Dr. Hauter was doing was bringing a great service to many members of the community.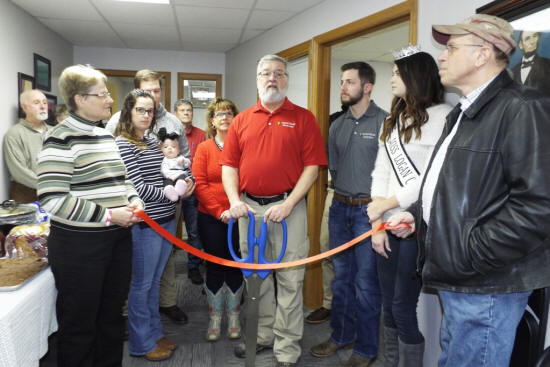 Dr. Hauter was then called on to speak. He explained that after retirement he received calls from friends and family who were struggling to navigate through medical situations and needed his advice and help. He said that it irritated him that so many people had to work so hard to get the care they needed.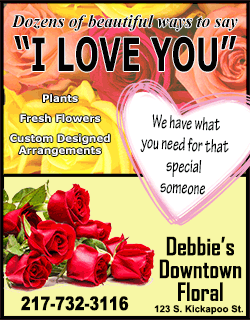 Dr. Hauter then gave credit to his son Ben who brought the Direct Care program to his dadís attention. He said that as the two researched it all, his first impression was that it was a program that was too good to be true, but as he studied and learned more, he came to the realization that this was the kind of medical care the community needed and he wanted to offer.
Lastly, Mayor Goodman was called on to speak. Goodman noted that Dr. Hauterís new office is actually the office where Goodman began his real estate career, working for Doris and Associates. Goodman went on to say that he was happy to see Dr. Hauter return to practice in Lincoln and to offer a service that is needed in the community. He wished Hauter much success in his new venture.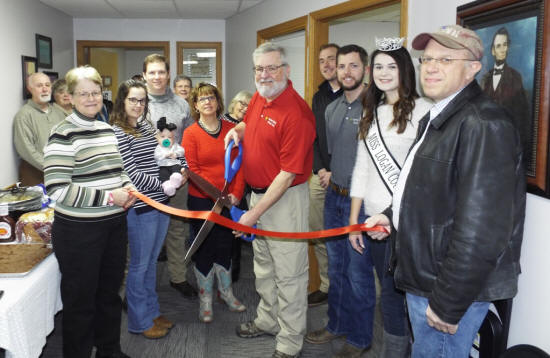 The group behind the ribbon then stood for a posed picture.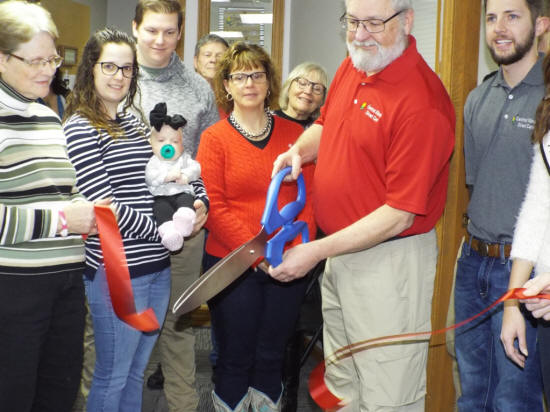 The crowd then helped out by calling off the tradition ďthree-two-one-snipĒ as Dr. Hauter snipped the ribbon on his new business.

After the cut, guests were invited to enjoy lunch with the Hauters and spend time talking with the doctor about his new practice.

There were also handouts available for everyone to take that described the Direct Care program, offered price quotes and also outlined some of the medications that are available directly from the doctor at the time of the visit.

Currently, Dr. Hauterís office is open by appointment with hours varying depending on the need. Those who wish to contact Dr. Hauter to talk more about the program, establish a membership or make an appointment to see the doctor may do so by calling 217-632-6236.

[Nila Smith]

Dr. Dru Hauter of Central Illinois Direct Care to host ribbon cut for new office today
Getting the kind of medical care you need and deserve in central Illinois