Lincoln College Set to Host Big Table Economic Development Event
Community Invited to Get Involved in Supporting Local Economy
Send a link to a friend Share
LINCOLN, IL – Lincoln College, in conjunction with the Greater Peoria Economic Development Council and Lincoln Economic Advancement & Development, Inc. (LEAD), will be hosting a Big Table event on January 30. The event titled, "Rural Matters" focuses on the opportunities and challenges facing rural areas and small towns in the Greater Peoria region.

The event begins at 4 p.m. on Thursday, January 30 at the Lincoln College Johnston Center for Performing Arts Center in Lincoln. There is no cost to attend.

Logan County community members, business owners, service and resource agencies, and school and government representatives are encouraged to attend and discuss issues such as town revitalization, small business development, industry, jobs, housing, natural resources, and broadband. Participants will be given the opportunity to propose projects and programs that support community and economic development in the area.
The family-friendly event permits participants to stay for the entire event or only a portion. Refreshments and a light snack will be provided.

Lincoln College President David Gerlach said, "Lincoln College is excited to host the upcoming Big Table Economic Development event for the Lincoln community on our campus. I am hopeful that this event will be part of bringing our community together to focus on the future."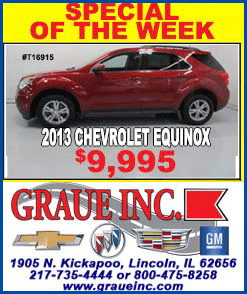 Interested persons may register at www.bigtablegp.com/register.
Registration is also available at the event upon arrival. For more information, contact Tony Dahlhoff by calling 618-795-8470 or emailing tdahlhoff@greaterpeoriaedc.org.
[Lauren Grenlund
Director of Public Relations
Lincoln College]