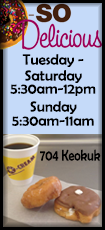 Dr. Romanaux, who holds a PhD, is a world renowned organist and educator. The lecture held in the Elkhart Christian Church focused on American industrialist Andrew Carnegie and a part of his legacy to the country and world that is not well known.

Dr. Romanaux grew up in rural Virginia, Illinois, the daughter of the local funeral director. As such, she was introduced to the music of the organ at an early age, and the magic of the sound never left her. She began taking lessons at an early age at MacMurray College and then later traveled to Vienna, Austria and Julliard to advance her studies of the so-called 'King of Instruments.' Accompanied by her husband William Furry, Director of the Illinois State Historical Society, he said, "She had to learn German in order to take lessons in Austria."

While in Virginia, Ms. Romanaux practiced on the Virginia Christian Church's organ. Little did she know about its wonderful history and how it would eventually affect her life.

In her travels around the world playing the organ, Romanaux has performed on an organ from the 1400's and others that were played by Johann Sebastian Bach, Mozart, and Franz Liszt. Her fingers were on the same keys as these giants in the history of music.

"When I play the organ, I can feel the breath of the instrument passing beneath my fingers, as if it is living. I have always been inspired by the organ," she said.

And what is the alternative legacy of Andrew Carnegie that Paula introduced to the full pews in the Elkhart Christian Church?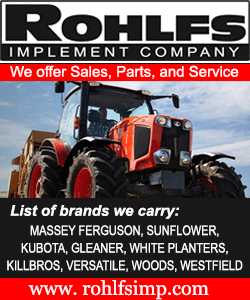 Most know that he was the richest man in American in the late 19th and early 20th century. He is also known as the 'Father of Modern Philanthropy' in America. Perhaps his donation of his wealth to build libraries in the United States is his most well known legacy. But there is another aspect of his largesse that Romanaux discussed. Andrew Carnegie donated funds to place organs in over 6,000 churches all over the world.

"Andrew Carnegie believed that God spoke through the music of the organ," said Romanaux. "He also believed that it was the duty of the wealthy to give away all of their treasure," she added.

Romanaux is writing a book on Andrew Carnegie's legacy of donating organs. She has initially been on a quest to find all of the remaining Carnegie organs in Illinois. She and her husband William have found 207 so far. "We have put many miles on our car traveling throughout the state seeking out these Carnegie organs," she said with a laugh. They are known affectionately as the Carnegie Hunters.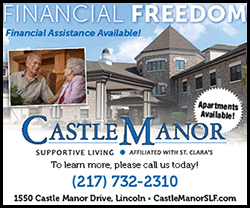 One of her most fantastic discoveries in Illinois is the organ she practiced on as a teenager in the Virginia Christian Church. It was actually donated by Andrew Carnegie to the church.

Looking at the arc of Paula Romanaux's life, she unknowingly learned her skill on a Carnegie organ in her hometown and has now uncovered its history.

Central Illinois towns that have Carnegie organs are Petersburg, Havana, Mattoon, Chandlerville, Divernon, White Hall, Roodhouse, and Virden. "Some of these towns also have Carnegie libraries, towns that are doubly blessed by Andrew Carnegie's philanthropy," said Romanaux.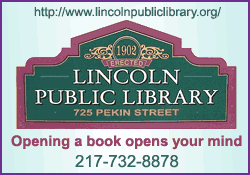 And some of these organs were actually built in Illinois. Two well known organ manufacturing firms were Hinners Organ Company in Pekin, and Wicks Organ Company in Highland. Both firms began in the 19th century.

After her lecture on Carnegie donated organs, Romanaux gave a concert on the organ in the Elkhart Christian Church. While it is not a Carnegie instrument, the organ is a historic part of Elkhart. It was manufactured by Pilchers Company of Louisville, Kentucky 134 years ago as the house organ for Governor Oglesby's mansion on Elkhart Hill. Her concert included compositions by Johann Sebastian Bach, the first time that timeless composer's work has been performed on it. "An historic organ can be the center of a community such as the one here in the Elkhart Christian Church. It can also provide a place for young people to learn the instrument just as I did as a teenager," said Romanaux.

The evening concluded with a special presentation in the church. A representative of the American Guild of Organists, Dale Rogers of Springfield, presented a certificate of appreciation to Elkhart Christian Church organist Elizabeth Ann Anderson for her sixty years as the church's organist.

The Elkhart Historical Society has a dinner and lecture series throughout the year. Check their website for details of upcoming presentations.

[Curtis Fox]