Many improvements on the way at LCHS



Send a link to a friend Share
With the school year getting cut short this spring due to the outbreak of Covid-19 around the world, Lincoln Community High School was able to get a jump start on some improvements.

More often than not, to make room for something new, you've got to get rid of something old. In this case, it was the bleachers at the football and soccer fields.

Last week the demolition of the bleachers at Handlin Field took place over a stretch of three days. S & W Contractors of Illinois did the demolition work on the 50 year-old bleachers. The Riverton-based company will also oversee the concrete work necessary before the new bleachers can be installed. That is as soon as the weather allows, which could be quite some time now due to the extremely wet conditions and future forecasts of rain.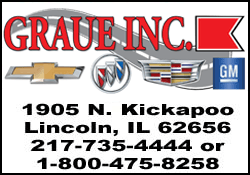 S & W is a family-owned veteran business operated by Jeremiah Williams, a 19-year veteran of the United States Air Force. "That's why we wear the flag on our sleeves," said Williams, a 2000 graduate of Riverton High School. Williams' dad is also an excavator and he was military too. The elder Williams is an Army veteran.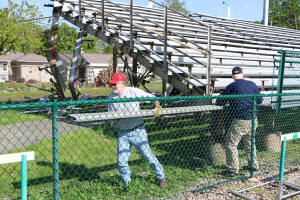 The local Marine Corp League was on hand as the bleachers were being demolished and they salvaged some of the aluminum ramps to be used for veterans in the area.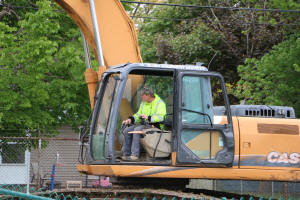 Owner Jeremiah Williams was the heavy equipment operator on the bleachers project and he did a fantastic job clearing the way for the new construction to begin eventually.

"I have been doing this since I was little," said Williams. "You know how you see little kids playing with dump trucks in the sand? That was me. I've been doing it ever since. And I love it. It's fun."

S & W employs 35 people and as one of the semi operators stated on the job at Lincoln last week, "He (Jeremiah) is really good at tearing things up."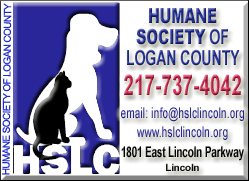 Williams is simply following his passion for demolition and it was fascinating to watch him meticulously disassemble the old aluminum bleachers, which were now considered a safety hazard.

The new bleachers will also be made of aluminum, however, they will not be as tall as the older bleachers, but they will cover a wider stretch of territory to allow for plenty of seating.
Fans will notice next season the home and visitor's side of the bleachers will switch places. The home bleachers will be located on the west side of the field and the visitor's bleachers will be on the east side.

Bring on football and soccer season!

Other improvements on the way:

"This is going to be a very busy summer," said LCHS Superintendent Dwight Stricklin.

"New scoreboards for the softball and baseball fields are coming soon," Stricklin said. The scoreboards are already in Lincoln and will be installed as soon as weather and time permits.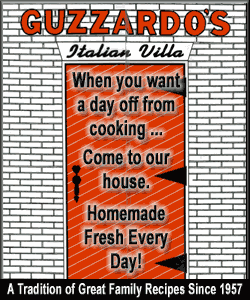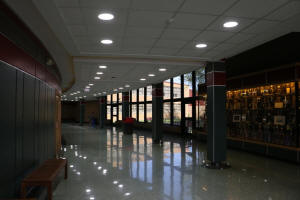 The school building will be getting new windows and new dryvit wrap will be going up as well, according to Stricklin.

"In order to be more energy-efficient we are going to cut down on the number of windows that we have," explained Stricklin. "We plan on having half the amount of windows in order to be more energy-efficient. That will also change the look of the building."

Stricklin also plans to have seating in the area outside of the gymnasium entrance. Currently there is an empty space that was left when the new "Lincoln Railers" sign was put up and that part of the outside was given a makeover. The area should be a perfect fit for a bench or two.

Upon a walk into that gymnasium entrance, a couple new features are already noticeable. Motion sensor lights have been installed and are up and running. A fresh coat of paint has also spruced up the entrance as well as the hallway known as Railer Way. The dark red and dark green paint scheme has really given new life to the walls.

Improvements are coming to the library, auditorium and cafeteria, too.

"We are redoing the library," said Stricklin. "We are updating the auditorium with new paint and new carpet. And we are trying to update the cafeteria the best way we can. We are limited on space. We've got two big lunch periods and there's only so much you can do with the space."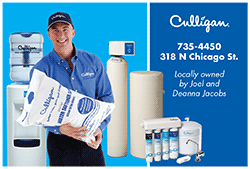 A visit to the roof to view the solar panels, which are relatively new at LCHS, revealed some really big news: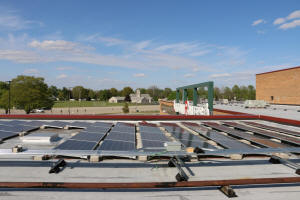 Air-conditioning is coming to Roy S. Anderson Gymnasium this summer. Just when you think 2020 can't possibly get any stranger, here comes the news that Coach Neil Alexander Court is going to have AIR-CONDITIONING!

And the back gym will also be air-conditioned, according to Stricklin.

Both gyms will be air-conditioned because of safety reasons.

"During the summer it's an issue because of the condensation and humidity, the floor gets very slick," said Stricklin. "So it's a safety issue. It's like an ice rink out there on the court, especially during summer camps when the gym is full of kids."

While there might not be any kids in the gym this summer, at least there is something to look forward to in the future.


2020 - the year of air-conditioning at Roy S. Anderson - who honestly saw that coming?!

At any rate, the new improvements will add a lot to the new school year. Now if we can just add the students to the new school year, we will have struck gold.

[Teena Lowery]