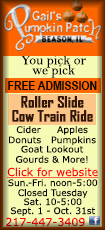 It was also the year my grandmother started collecting a set of Stetson China in the Cosmic Stars pattern. It was a very modern and timely design at the time. She was able to acquire a set of basic dinnerware for eight before Stetson closed its doors in 1965. The majority of Stetson China had been sold to Marcrest, a Chicago brokerage firm, who sold it to furniture and grocery stores. Those stores offered the china as bonuses or premiums for shopping in their stores. Therefore, it is not surprising that a lot of Stetson's inventory ended up in Midwestern kitchens, largely in Illinois. However, china from Stetson's predecessor, the Illinois China Company, was sold nationally.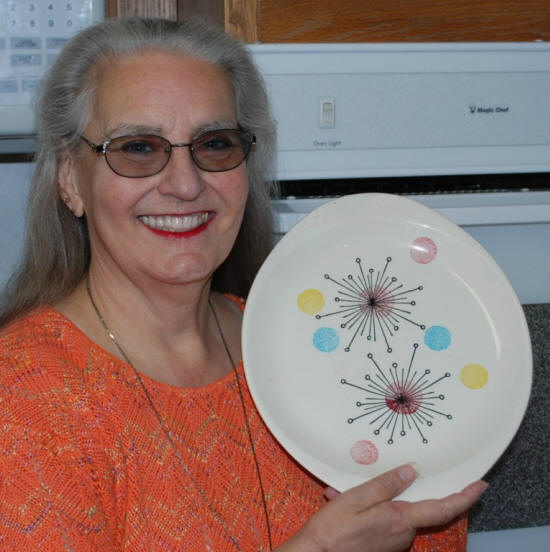 The Cosmic Stars set was a gift on my wedding day. Although a complete set would have included dozens of serving pieces, the eight dinner plates, cups with saucers, fruit/dessert (sauce) bowls, dessert plates (officially called bread and butter plates) and a platter was sufficient for a newlywed.

I loved the set then, and I still do. The muted primary colors (blue becoming aqua and red becoming pink with yellow) illustrated in a space age design, would surely now qualify as mid-century modern. The set became my "good china'' appearing only for company at Thanksgiving and Christmas. Now, with fewer "holidays" than "every days" left in my life, I want to use and enjoy these dishes. And I crave knowing more about them and the company that made them.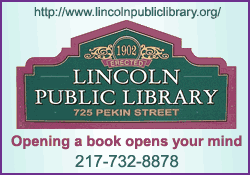 I remember a set of pine cone dishes that my mom sold at a yard sale in the '60s. It appears from my interpretation of internet sites that Stetson made at least five pine cone patterns.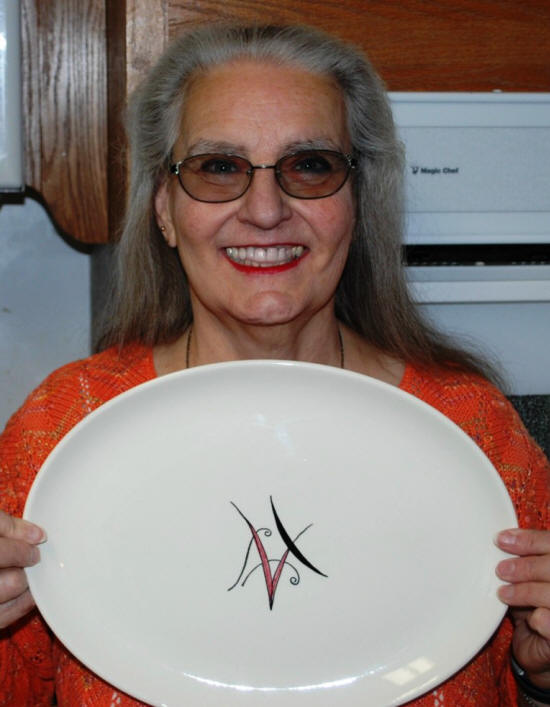 I recently acquired a platter in the Stetson Creation design, with its stylized pink and black lines. It was at a thrift store, and I was looking for a cheap platter for Thanksgiving with my dad and his sweetheart. Pink and gray was a popular color combination in the late '50s, and I remember my dad wearing clothes in that color combination. The swooshed lines on the platter look like a "V" monogram, which is my dad's initial, so I proudly used the platter for our family meal last year. I didn't realize both the pine cones and the pseudo-monogram are also Stetson China until I started searching cyberspace for information. One would think anything anyone would ever want to know is available on the internet, but it's not. At least not what I want to know.

I have looked at more than 1,300 pictures of Stetson China designs without finding the pattern of my set. I need to verify the correct name of this design.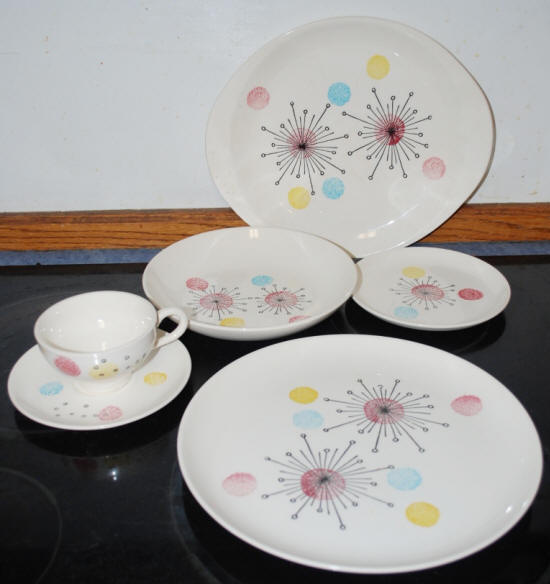 Upon closer inspection, I have discovered the design on the cups and saucers are coordinating but not exactly matching the other pieces I own. I need to know if both designs are considered Cosmic Stars, and if not, what the other pattern is called. I think names of the two designs are now often confused and are interchangeable, but erroneously applied.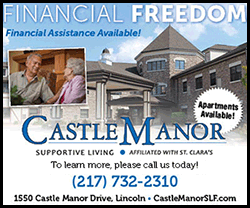 The pattern on the cups and saucers has the same multicolored balls but no black starburst. Were any cups or saucers made with the full pattern? Were other pieces made with the abbreviated design? Are there other Stetson designs for which little or no information or depictions exist?

Stetson pattern number STT440 is described as "Black Scrolls & Lines, Pink V Symbol" by the Replacements.com website. It appears to be a variation of my Creation platter. The name "Creation" was assigned to more than one design. At least one design of Stetson China is very similar to my set of Melmac. Could there have been some design crossover among china patterns and from china to Melmac patterns?

The internet says Stetson bought the Illinois China Company in Lincoln in 1946 and its stock of plain white ware, and at that time started using a hand painted method of decorating the china. After two or three years, Stetson went back to using decals, mostly from England and Germany.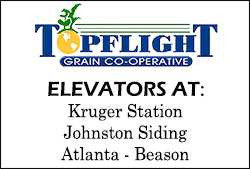 I want to know about the hand painting. I want to know about the use of decals. All of my pieces are stamped with a logo indicating they're hand-painted under glaze. Even into the 1950s and '60s, Stetson was advertised as being hand painted. I want to know the true story.

The names Alfred Dube, D.H. Harts, Jr.; F.W. Longan, James Smith, James McGrath, Will Houser, William Kahn, James Shaw, William Baskeyfield, and Frank Shingler have been mentioned on the internet as having key roles in the Stetson China Company.

I want to know if their families have any memories of the roles of these men in the company.

The internet says Stetson was one of the innovators of Melmac dinnerware and manufactured it at the Stetson plant in Manitowoc, Wisconsin.

I want to know about the Melmac and whether anyone was involved in the changeover from pottery to Melmac. How or why was the decision made to switch? Was Stetson merely trying to progress with the times? Did anyone follow Melmac production to Manitowoc?

The internet says nearly 800 people worked for Stetson in the early 1960s.

I want to know what it was like to work at the Lincoln Stetson China Company factory. I want to know the process. I want to know the memories of former employees and their families. I want to see pictures of the plant, the painting or manufacturing spaces, the kilns. I want to hear all the stories.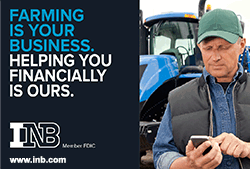 I want to know why the design on my china is now considered to be one of the rarest of the Stetson patterns. Were there fewer pieces made with this design, and if so, why? Atomic starburst patterns were extremely popular in that era. Did Stetson purposely create a shortage in supply for a highly in-demand design to make Cosmic Stars even more desirable? Or did more china in this pattern simply not survive the decades?

The more I find out from the limited information in cyberspace, the more my curiosity is whetted. What started as interest in my "good china" has turned into a full-fledged quest!

If you have any answers to these questions or other information, documentation, or pictures, I would very much like to hear from you. The results of my research might be included in future publication(s). I would be happy to correspond with you via post, email, telephone, or in person at your convenience.

I extend to you my deepest gratitude.

Please contact me at 2505 Chippendale Dr, Belleville, IL 62221-3271 or at earhart500@aol.com or 618-235-8823.
[Diane Earhart]
About the author: Diane Earhart is an award-winning writer, including the 2020 Writer's Digest competition. She was first published in Golden Magazine at age 10 and is a co-author of When the Road Turns: Stories about MS written by people with MS. Originally from Wisconsin, she lives in the Metro East of St. Louis with two adults, three dogs, and a cat.