Abby (Coers) Miller runs the Boston in Illinois



Send a link to a friend Share
Saturday was a dreary day, rainy and dark and a little cool. It was the kind of day that reminds us that fall us upon us and winter is just around the corner. It was the kind of day when many think of sleeping in, snuggled under an extra blanket, a day for chili soup and watching movies on television.

For many, Saturday would have been a day to veg out and do nothing because the weather wasn't good enough to do anything.

However, for one local woman it was a kind of day that meant making history starting at 6 a.m. in Clinton in DeWitt County and ending 26.2 miles and just over four hours later in Lincoln.

For Abby (Coers) Miller, Saturday was Boston Marathon Day and she was going to run the world-famous marathon right here in her home community.

While it has become almost cliché', the fact is that coronavirus has changed a lot of things this year. Among those changes is the manner in which the annual Boston Marathon was run. Typically the race is held in the great city of Boston in April with thousands of people shoulder to shoulder at the start/finish line and on the sidelines. The race garners viewers on television, and people who travel from all points around the world to participate.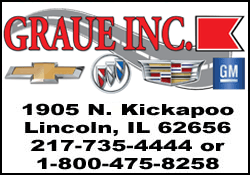 For people like Miller who have run the marathon multiple times, the news this year that there could be no Boston Marathon was certainly disappointing. But when it was announced that those who had qualified to participate could run the race virtually and submit their times to the marathon organizers, the idea held special appeal for Miller. "I wanted to be there, but being local where you have trained those miles, and then running the race on those roads is so important, very special," said Miller.

Adding to that, being here at home to run the race brought on a second aspect that Miller doesn't find when she is in Boston, running companions that would not have qualified or gone to Boston with her had she gotten to go in April.

Miller, whom most will know as Abby Coers, a native of Logan County, a familiar face at Central Illinois Ag in Atlanta, a member of the Logan County Farm Bureau Young Leaders, and among the first to introduce drones to Logan County and use them in agriculture related projects, was married in August to Greg Miller.
Greg organized a group of supporters to run with Abby in various stints of the race, and also arranged for friends and family to be waiting for her at the finish line in Lincoln.

Abby Miller named off several people who had joined her along the way including friends, fellow runners, trainers and former trainers.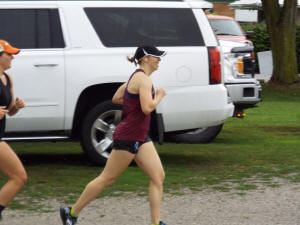 She noted, "That was pretty special. I thought I was going to be out there running alone, but my husband Greg (we just got married last month) put all this together for me, and it was very special to have all that support."

Miller began her trek in Clinton at the DeWitt County Farm Bureau, she ran through Clinton bypassing the Route 10 turn off and continuing westward to Illini Drive where she turned right and ran back toward Route 10, intersecting that highway at Walker Tire. On Route 10 she started the longest stretch of the run toward Lincoln. Just outside of Lincoln she made another turn onto Airport Road and ran to Route 66. On Route 66 she continued on until she got to Union Street, near the Eaton plant in Lincoln. Turning south she then ran down Union to Keokuk where she turned left and proceeded back east until she got to North Kickapoo Street. On Kickapoo, she then ran the last several blocks to Precision Movement, 1417 North Kickapoo.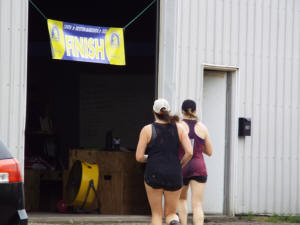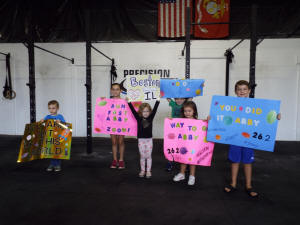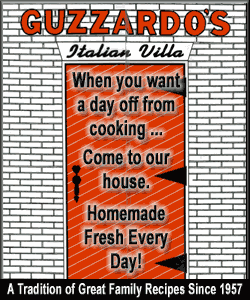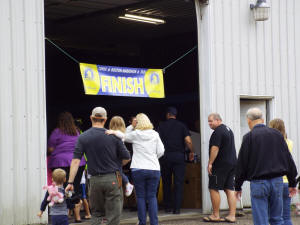 When she arrived at her destination, an official "Finish Line" was set up for her at the entrance to the training center and friends and family were waiting to congratulate her and cheer her into the building.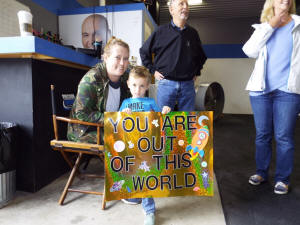 Several of the kids in the group had made special signs for Miller, and the held up their signs and everyone clapped and cheered.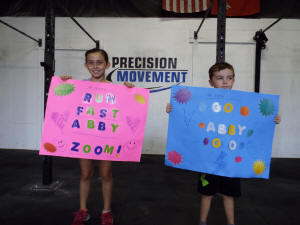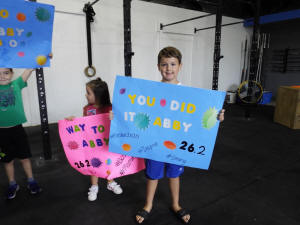 Miller finished her race in four hours, eight minutes and four seconds, a bit slower than her best time but still nothing to be ashamed of by a long shot. She noted that she was slower because she probably hadn't spent the time training that she could have. She said that with Covid-19 she had found herself lacking the motivation to train, but finding out that there would be a virtual Boston Marathon had got her back in the groove.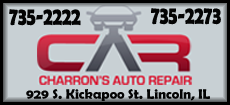 In order to run in the Boston, participants have to qualify for the race. There is a time that has to be met and Coers had run her qualifying race in May of 2019 in the Mountain 2 Beach Marathon in Ventura, California in three hours, 24 minutes and 12 seconds and been accepted into the 2020 Boston.

"It was disappointing when they had to cancel," said Miller, "but this was pretty amazing to see all the local support."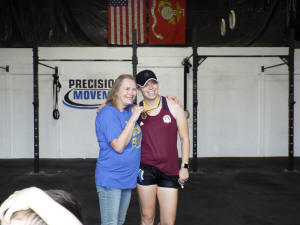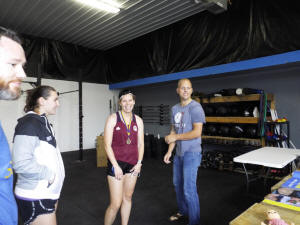 So, while it may not have been traditional, it was certainly special, and again, historical. We can all hope that there will never be another time in our lifetime, or our children's lifetime when our world is changed so dramatically and so unexpectedly. But, for our younger population especially, they are making memories that they will share with their children and grandchildren.

Someday in the future, Greg and Abby Miller will repeat their story of running the Boston Marathon in Illinois to the youngsters in their lives. They will be living examples of what it means to cope with difficult times, make the best of what is in front of us, and find the joy, the special moments that make it all worthwhile.

Congratulations Abby! Logan County is now and will always be very proud of you!

[Nila Smith]