Visitation: 5 p.m. to 7 p.m. Monday, February 8, 2021 at Holland Barry & Bennett Funeral Home
Service: Tuesday, February 9, 2021 at 10 a.m. at the funeral home
Funeral home: Holland Barry & Bennett Funeral Home
Obituary
Nancy Jane Ingram Moore, 68, earned her Angel wings on her birthday February 2, 2021.

Visitation will be from 5-7 p.m. Monday, February 8, 2021 at Holland Barry & Bennett Funeral Home. Funeral services will be Tuesday, February 9, 2021 at 10 a.m. also at the funeral home. Burial will follow in Elkhart Cemetery. Due to health concerns related to Covid-19: facial coverings and social distancing are required.

Nancy was born February 2, 1953 in Lincoln, the daughter of Richard Ingram and Gladys Pankey Ingram. She married Terry Moore on October 7, 1972 in Sherman. They shared 48 loving years of marriage.

Nancy graduated from Elkhart High School in 1971. She was the Homecoming Queen that year. During school she worked as a waitress for Martha Bair in the evenings, weekends, and during the summer. She retired from the State of Illinois in 2004. Nancy also worked at the Bank in Elkhart and at the Elkhart Post Office.
She was a lifetime member of Elkhart Methodist Church where she served on the Board of Directors as Secretary/Treasurer and was in charge of the communion ministry.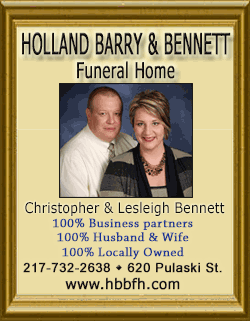 She was a Village of Elkhart Board Trustee for many years.
Nancy was an avid softball player and played on a ladies league well into her 50's. She also coached softball for several years. Above all else, Nancy loved her family. She was a loving wife and mother and adored her grandchildren, they were the light of her life.

She leaves behind her husband Terry Moore; children Tyler Moore, Tara (Aaron) Larson, and Travis (Sarah) Moore; grandchildren: Briar, Trey, Tinlee, and Blane; her mother Gladys Guinn; brother Rick Ingram; aunts Pat Pankey and Nancy Pankey; uncle Fritz Werkman; and many friends.

She was preceded in death by her grandparents, father, step father Dave Guinn, mother and father in law, and several aunts and uncles.

Memorial donations may be made to The National Down Syndrome Society or to Elkhart Methodist Church.

Click here to send a note of condolence to the family of Nancy Jane Ingram Moore