Atlanta Fall Festival fun continues on Saturday



Send a link to a friend Share
A humid mid-September Saturday afternoon brought many out for the Atlanta Fall Festival Parade.

While waiting for the parade to begin, one little boy had his binoculars out ready to look for parade entries coming his way. He planned to catch candy to share with his little sister.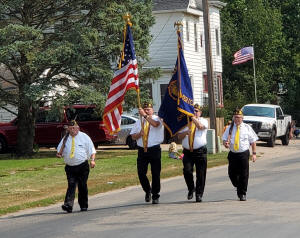 Leading the parade was the American Legion Color Guard followed by Grand Marshall Fred Finchum. Next up was the Olympia Spartan's Marching Band.

This year's theme was 'Yesterday, today and tomorrow,' which was reflected by entries such as a float with a replica of the Hawes Elevator.

One truck had replicas of old buildings in Chicago and St. Louis to represent Route 66.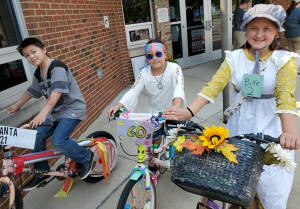 Several children decorated their bikes to represent the past, present and future.

One horse was adorned with a reminder to Never Forget [the events of 9/11/2001].

A few drove cars from past eras. The Mohammed Shriners and their Tin Lizzie Patrol came through in miniature cars behind the Bloomington Shrine Calliope Unit with its cheery music.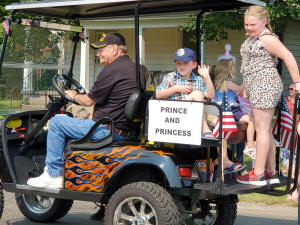 Newly crowned festival Princess Oaklynn Jason and Prince Lincoln Craig rode on the back of a flame clad four-wheeler through the parade route.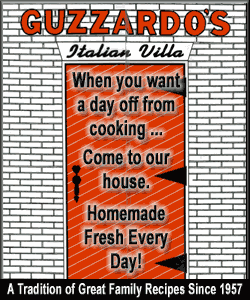 Other royalty riding in the parade included Logan County Junior Miss Alayna Briggs and Little Miss Sofia Farmer.

Additional entries included elected officials and candidates running for office in the upcoming March election, several area businesses, and the American Legion.

The parade also featured local emergency units such as the Atlanta Fire Department, Rural Fire Department, and the Atlanta Rescue Squad.

As usual, children watching from the sidelines dashed to catch candy being thrown.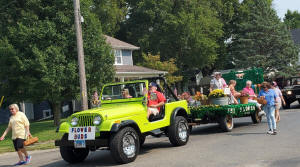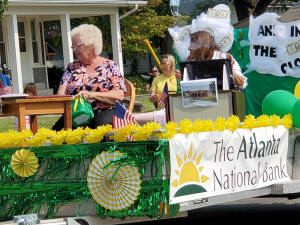 After the parade, winners from various categories were announced. Top prizes in various categories were awarded to the Flowerbuds, Atlanta National Bank, the Gordon family, Zack's Heating and Cooling and the Kong kids.

The men of the Atlanta Methodist Church prepared an Angus Tri-Tip for the large meal served in the Community House in the evening.

Saturday's events included a morning baking contest, a kiddie tractor pull, a cake and pie auction in addition to vendors, rides, carnival games and BINGO that took place throughout the festival weekend.

Many enjoyed coming out to the festival on this beautiful late summer weekend.

[Angela Reiners]