Lincoln defeats Mount Zion 55-45
Send a link to a friend Share
[February 10, 2022] The Railers earned an Apollo Conference win on the road Tuesday night as they defeated Mount Zion 55-45.

The Railers held an 11-5 lead over the Braves after the first quarter of play.

Camden Nelson made three 3s in the second quarter to lead Lincoln towards a 29-19 lead at the half.

Elijah Pollice hit his third three of the game in the third quarter and with Tyler Sasse tossing in five points and Payton Cook contributing four points, the Railers kept that double-digit lead over the Braves, 41-31 the score.

The Railers shot well from long range versus Mount Zion, making nine 3s on the night, including one from Aidan Gowin in the fourth quarter. Cook's seven points in the fourth quarter helped Lincoln to their 55-45 conference win over the Braves.

Payton Cook and Elijah Police each led Lincoln with 15 points apiece. Tyler Sasse hit double-digits with 11 points.

Lincoln improved to 21-6 on the season. The Railers are 9-1 in the Apollo Conference.

Mount Zion falls to 19-7 on the season and 4-6 in the Apollo Conference.

The Railers won the JV game 43-36 over Mount Zion.

Ki'on Carson led Lincoln with 18 points. Trey Schilling contributed 14 points.

The JV team improved to 20-1 on the season.

Lincoln will host Effingham Friday night. The JV game will start at 6 p.m. The Varsity will tip-off at 7:30 p.m.
Varsity scoring

Lincoln 55

Pollice 15
Cook 15
Sasse 11
Nelson 9
Gowin 3
Bivin 2

Mount Zion 45

Cuddy 20
Kuesten 15
Hamrick 10

JV scoring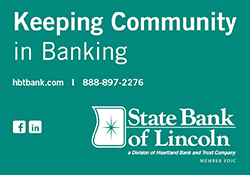 Lincoln 43

Ki'on Carson 18
Schilling 14
Hayes 6
Stevens 3
Evers 2

Mount Zion 36

Owens 14
Burris 12
Adams 4
McAtee 4
Hart 2
[Teena Lowery, with a special thanks to Coach Alexander]