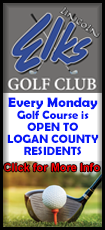 Before the program began, people gathered along the sidewalks of the new home, anxious to witness the event. The Lincoln Rural and City Fire Departments were on hand and the gigantic American Flag was lifted over Sixth Street, where the home is located.

The second tiny home construction project began on April 3rd and was continually plagued with weather conditions that made it difficult to keep the project moving forward.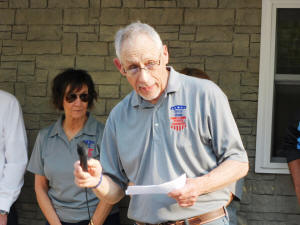 CIVC Director Joe Schaler recognized some of the key volunteers on this project. Spud Newhouse in particular as the project foreman had been out there every day - in cold, wind, rain, snow and even hail. Yes, indeed there had been one day that the volunteers worked in the hail.

Nonetheless, the project had gone forward thanks to the dedication of the volunteers.

The first tiny home was built last fall by 2 X 4's of Hope, and was done very quickly because that group brought in a team of helpers who guided the local volunteers through the process. Because there were so many involved, the home was completed in a week.

This second home was built solely by local volunteers with much smaller numbers of people involved, and again tough weather conditions. Even so, the home from foundation to roof and interior, furnishings and home décor, were all completed in just a little over a month.

Schaler said that none of this work would have been completed without all the volunteers. He recalled the various people who had come out and contributed, and did not leave out those who had provided supporting services such as delivering meals to the workers at noontime.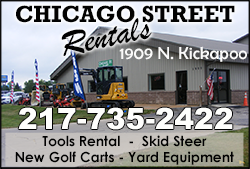 He added that the home could also not have been completed without money. He said the CIVC was blessed to have received considerable sums from donors such as Eaton Corporation, The Woods Foundation and the Steinfort Foundation.

He said that in addition to these larger sums, there had been over 100 donations from local citizens and each one had been put to good use and were much appreciated. He remembered one young lady, who he said had only $0.14 in per purse when she visited a fundraiser, but she put it in the bucket. Schaler said those donations are the ones that tug at the heart and make him know that people in the community do care about our veterans.

Schaler also expressed appreciation to Haji Patel, who has donated the entire corner lot at the intersection of Sixth and College Streets. The lot will be the location of three tiny homes, two of which are now completed, with the third one in the works to begin construction yet this year.

Schaler said that in addition to money and volunteers, the third component of a successful home build was a veteran to hand it over to. He said veterans can be nominated by anyone, or they can nominate themselves. Schaler said in this particular case, the Hennessey's were nominated by their new next door neighbor and first tiny home recipient Scott Jackson.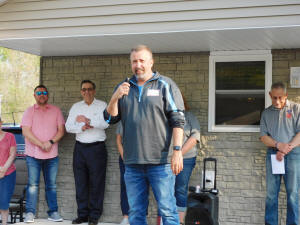 Also speaking on Monday evening was Logan County Veterans Assistant Commission Director Dan Benedict.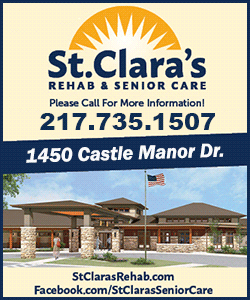 Benedict echoed much of what Schaler had said, thanking the volunteers and those who had added support through bringing out meals and snacks.

Central Illinois and Logan County is very veteran friendly. Whenever there is a need they are here. Benedict said he wanted to thank everyone who supported and showed their love and gratitude for our local veterans.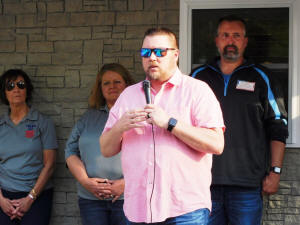 Lincoln Mayor Tracy Welch, who is also a veteran, expressed appreciation for all the work that had been done in Lincoln. He said that he is proud of the veteran tiny home project and is especially proud of this build because it was done by all local volunteers. He said that the willingness of people to give their time and talent to a veteran is a genuine show of support and gratitude.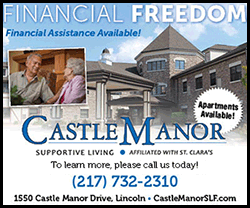 In addition to speeches, Benedict presented the Hennesseys' with a new American Flag. He spoke directly to them, and then placed the flag in a holder on the front porch of their new home.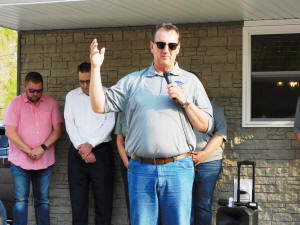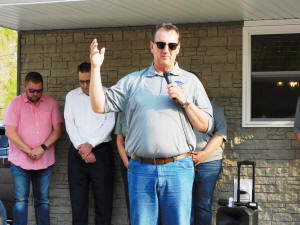 Pastor Ron Otto of the Lincoln Christian Church offered an opening and closing prayer and Lesleigh Bennett sang the National Anthem.

Benedict also assisted with a drawing for a 1911 pistol that had been raffled off as a fundraiser for the tiny home build. The antique pistol had been donated by Dave Duvall Automotive, Famous Liquors and Mel-o-Cream. The winner of the pistol was Joe Lucas.

The LDN Ribbon cutters assisted in a ribbon cutting for the new homeowners.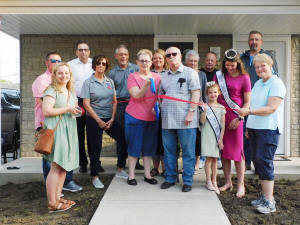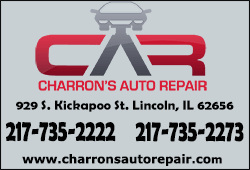 Those participating in the ribbon cut included the Hennesseys, CIVC board members Chuck Conzo, Marsha Fernandes, Joe Schaler, Annie Coers and Patti Becker, building project foreman Spud Newhouse, Logan County Veterans Assistance Commission Director Dan Benedict, Logan County Fair Junior Miss Alayna Briggs and Little Miss Sophia Farmer, Logan County Tourism Director Alice Roate and Karen Hargis of Lincoln Daily News.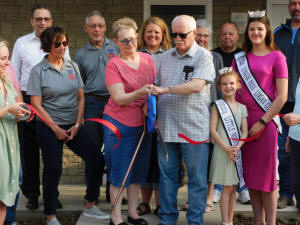 The crowd assisted in the countdown and when the command to "snip" was given, Dave and Tecia Hennessey cut the ribbon on their new home.

Following the ribbon cutting, everyone was invited to go inside the home and take a tour. As guests filed through, they had the opportunity to congratulate the Hennesseys on their new home and enjoy a choice of cookies laid out in the kitchen.

If you would like to know more about the tiny home project, or donated time or funds, you can visit the CIVC office at 120 South McLean Street in Lincoln, all 217-828-9366, email contact@civeteran
.org or visit the website at https://www.
civeteran.org/

[Nila Smith]
[Family photo provided by David Duvall]