---
---
Submit letter to editor online
---
Contact us
---
LDN is best viewed with
Internet Explorer 5.0 or 6.
---
LDN awards
Local:
Dec. 16, 2001
Local Emergency Planning Committee
Jan. 25, 2001
Logan County Healthy Communities Partnership
State:
Oct. 1, 2001
Illinois Public Health Association
posted daily OVER THE NOON HOUR (CDT)

=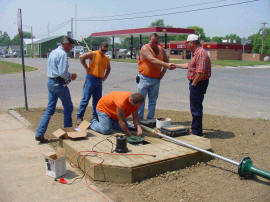 Click on pictures for a larger image.
[Pictures by Bob Frank]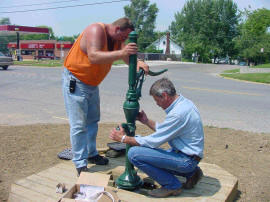 Workers put finishing touches on pump at Deskins Well on Fifth Street. It is said that Abraham Lincoln frequently refreshed himself with a drink from that well that sits right across from the Postville Court House where he practiced.



Logan County escapes potentially dangerous storms again

Law stiffens identity theft protection

Some Last Images from this year's fair

Ratings at the fair:

Junior sheep

Junior dairy cattle

Junior swine

New dairy cow device

Writers meet on Tuesday

August mutterings
By Jeff Mayfield

Lincoln Gator Elsas swims six top 10s at Junior Olympics
LDNs of the past week: