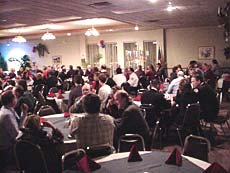 Many of the individuals and organizations attending the Dec. 16 banquet were members of Logan County Fire, Rescue and Police departments and took part in the services held outside the courthouse on Sept. 14, in the fund-raising drive for families of New York City rescue workers who died in the World Trade Center tragedy and took part in the candlelight ceremony that saw the unveiling of the $32,540 check for the rescue workers.
In honor of those groups, candles were lit on the same large candelabrum that was used in the ceremony presenting the check. One candle, the only black one amid a field of white, had remained unlit during the check presentation ceremony on Oct. 18. At the December ceremony, ESDA Director Dan Fulscher asked Rep. Jonathan Wright, speaker of the evening, to light the black candle as a sign that New York and the nation were recovering from the tragedy.
Wright, who said he was speaking not as a politician but "as a citizen who benefits from what you do," encouraged the fire, police and rescue workers to "stay the course."
"You represent the best," he told the rescue workers. He especially commended the volunteers who work without pay.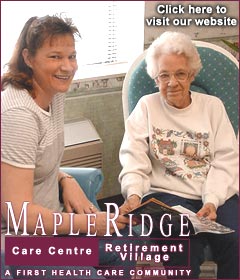 "Sept. 11 brought some positives along with the tragedy. Once every kid wanted to be a firefighter or a policeman. Today kids are keyed on athletes and entertainers with big salaries. But on Sept. 11 children saw what firefighters, police officers and rescue personnel are really all about."
Perhaps now young people will want to grow up to be firefighters, police officers and rescue personnel, he said.
Wright, who recently announced he would not run for state representative next term, said, "I decided not to run again, and it only hurt my pride. If you decide not to do what you do, the whole community suffers. Lives depend on you. Stay the course."
Fulscher presented awards in two categories, special merit and volunteer of the year, to members of many of the organizations and individuals who were present. Receiving awards were the following:
Lincoln Police Department, lead agency for the Logan County Terrorism Task Force; Rep. Jonathan Wright for assistance in fund-raising for New York City Police, Fire and EMS disaster families; county board chairman Richard Logan for leadership in the fund-raising for New York City families.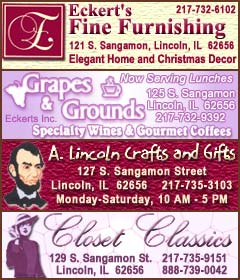 Also Weather Watch Team awards, Gerald Hubrich and Debbie Craig, special merit, and Rick Kempf, volunteer of the year; Underwater Search and Recovery Team awards, Denis Bailey and Gary Knauer, volunteers of the year; Snowmobile Team and Search and Rescue awards, Gene Hickey and Lynn Buse, special merit; Lincoln Railsplitter REACT awards, Don Begolka, special merit, and Devin Vannoy, volunteer of the year.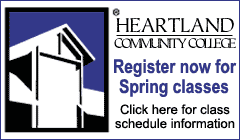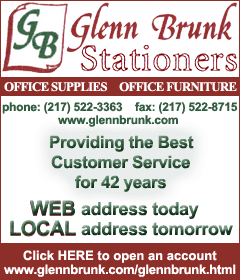 Also Mounted Horse Search and Rescue, Lori Schaub and Nathan Reinhardt, special merit, and Tammy Buse, volunteer of the year; Lincoln Rural Explorers awards, William Hutcheson and Adam Wessbecher, special merit.
LEPC awards went to the Logan County Health Department for the outstanding work they do to help make LEPC valuable to the community, with Lloyd Evans and Debbie Cook receiving special merit awards. Community service awards also went to Lincoln Daily News, Jan Youngquist and Joan Crabb, and to Insight Communications, Tim Rogers, Jim Ash and Mike Fak, special merit.
LEPC volunteer of the year went to Lisa Funk of CILCO; ESDA volunteer of the year went to Ed Houchins; and an honorary award to all New York City Fire, Police and EMS.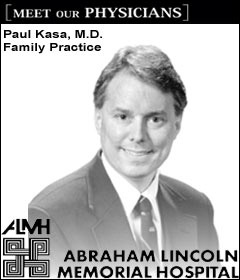 The Larry Schroyer Award, given in honor of the man who was the first Civil Defense director in Logan County, who set the Civil Defense unit (which has since become ESDA) on the path it is now, went to Everett Kennett and Gene Bathe. Kennett is a former Lincoln City Fire chief and is now a trustee of Lincoln Rural Fire Department. Bathe has been on the Hartsburg Fire Department for 38 years, served as chief and also head of the rescue squad.
Special thanks also went to those who helped with two major emergencies during 2001. On April 3, a tanker truck filled with gasohol overturned on Route 136 west of McLean, and Fulscher recognized the following people for their help with this incident:
Robert and Renee Stubblefield; Chief Dave Leach of McLean Fire and Rescue; Shelly Barger of Atlanta Fire and Rescue; Chief Bucky Washam of Lincoln City Fire; Chief Bob Thomas and Dave Hurley of Lincoln Rural Fire, CILCO dispatcher Lisa Funk; and Emergency Management Coordinator and Assistant Director Terry Storer.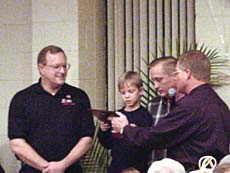 Seven-year-old Austin Mollet received a special merit award for the assistance in getting help for his grandmother. On Nov. 25, he was at her home when she stopped breathing. He was able to call 911, talk to dispatcher Mark Mann and give him all the information needed to send help to the home immediately. Austin, who was at the banquet, presented Mark Mann with a special merit award for his leadership in handling the call.
Organizations represented at the awards ceremony included Armington Fire and Rescue; Atlanta Fire, Rescue and Police; Beason Fire and Rescue; Broadwell Fire; Chestnut Fire and Rescue; Cornland Fire; Elkhart Fire, Rescue and Police; Emden Fire and Rescue; Hartsburg Fire and Rescue; Latham Fire and Rescue; LEPC; Lincoln City Fire, Rescue and Police; Lincoln Rural Fire and Rescue; Logan County Government; ESDA; Logan County Paramedic Association; Logan County Auxiliary Police; Middletown Fire and Rescue; Mount Pulaski Fire and Rescue; New Holland Fire and Rescue; San Jose Fire, Rescue and Police; and Williamsville Fire and Rescue.