---
Need a good running car to own as soon as possible, within a reasonable price. Cannot pay owner in full but can make monthly payments faithfully. Please Help. (217) 732-6855.

Send a link to a friend
---
---
Middletown Garage/Rummage Sales
Friday, Oct. 17, 5-8 p.m., and Saturday, Oct. 18, 8:30 a.m.-1 p.m.: Irish Grove Church, at American Legion -- Infant through adult clothing, baked goods, Christmas decorations, large aluminum kettle, costume jewelry, misc.
Friday, Oct 17, 5-8 p.m.: Boyer/Healy, 600 Second St. -- Collector Barbies, ladies' clothing, DVDs and VHSs, crafts, misc.
Saturday, Oct. 18, 8:30 a.m.-1 p.m.: Stage Coach Inn, at Middletown Park -- Misc.

Send a link to a friend
---
---
---
---
OSF Home Care is looking for a PRN RN to cover the Lincoln area. Flexible day and early evening hours available. Please send resume to OSF Home Care, 8001 N. University, Suite C, Peoria, IL 61615; or apply online at osfhealthcare.org. EOE

Send a link to a friend
---
Earn Extra Income. $200-$500 weekly mailing travel brochures. For more information send a self-addressed stamped envelope to: Platinum Travel, P.O. Box 640070, Miami, FL 33164.

Send a link to a friend
---
Writers needed to cover meetings and events.
The position requires good writing skills and a desire to communicate community news. Good interpersonal skills are also needed to communicate, check facts and report with accuracy.
If you have applied previously, you are encouraged to apply again. All previous applications were lost in a computer crash. Respond to ldneditor@lincolndailynews.com.

Send a link to a friend
---
---
FOR SALE: Two men's suits. One black, one gray. Purchased at S & K last year. Worn one year for high school speech events. Like new. $100 each suit
or $175 for both. (217) 735-2946 or e-mail donsank450@hotmail.com.

Send a link to a friend
---
AVON, The Company For Women
Shop AVON at home or in the office with Personal delivery and a 100% Satisfaction Guarantee. Contact Abby Kirk, Avon Ind. Sales Rep., at (217) 732-3065 or e-mail me at: ganr4@msn.com. Visit my website: www.youravon.com/akirk.

Send a link to a friend
---
---
Kittens!!! 8-week-old kittens and mother free to good home. Litter-trained and cute as a button. Two white males with orange splotches. One white-and-tiger-striped male. Female calico. (217) 732-7722.

Send a link to a friend
---
German shorthair pointer, 2 years old. Lovable, good dog needs good home. Call (217) 735-2791.

Send a link to a friend
---
---

40 Pinehurst -- One of Lincoln's finest in beautiful Chautauqua.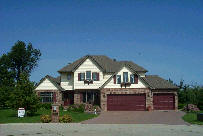 Breathtaking interior with cathedral ceilings, open grand staircase and stunning interior décor. From the back deck with in-ground pool see the great view of golf course and farmer's field. Quality features throughout add comfort and pleasure. Landscaping and lot location afford the homeowner a sense of privacy. $299,000 (click on picture for bigger image).
---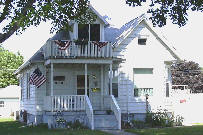 620 Wyatt -- 1,885 sq. ft. of 1˝ story on beautiful boulevard. Three bedrooms, including huge master bedroom with walkout to sun deck and master bath with Jacuzzi tub. Also features new windows, above-ground swimming pool and kids' playground equipment. All for $91,900 (click on picture for bigger image)
---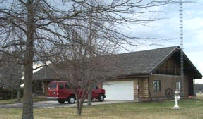 39770 E Route 10 -- 3,800 sq. ft. log home. Vaulted ceilings, loft bedrooms, hardwood floors, 2-car attached garage all in a beautiful park-like setting of pine trees, fruit trees, flowers and more. Also includes a great 20 x 40 machine shed with electricity and concrete floors. Incredibly priced at $135,000
---

498 1025th Ave. -- 2˝ story Country lovers dream. Beautiful 5-acre, 5-bedroom, 3,275-sq.-ft. custom-built home with European-designed soapstone fireplace. Home includes meadowland with mature fruit and pine trees, 30x40 Morton barn with four horse stalls, hayloft, water and electricity, 24 ft. above-ground pool with deck. This Realtor-owned home is a must-see. $289,000 (click on picture for bigger image)
---

Alexander & Company has numerous commercial, industrial and multifamily properties as well as several businesses for sale. We have listings for business owners wanting to expand, investors and small businesses wanting to get started. We work with multiple lenders and will assist in locating financing options. Call our office at 732-8353.
---
---
---
---
INTERNET ACCESS, 56K dial-up, rate plans from $13.95 a month, same day activation. Contact ILNet.Net, 1-866-582-5177. Website: www.ILNet.Net

Send a link to a friend
---