---
---

---
---
Submit letter to editor online
---
Contact us
---
LDN is best viewed with
Internet Explorer 5.0 or 6.
---
LDN awards
Local:
Dec. 16, 2001
Local Emergency Planning Committee
Jan. 25, 2001
Logan County Healthy Communities Partnership
State:
Oct. 1, 2001
Illinois Public Health Association
posted daily OVER THE NOON HOUR

Railers finish season with 34 to 7 win over East Peoria
[pictures by Bob Frank]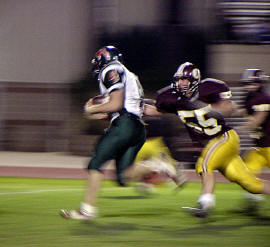 Get out this weekend and enjoy what may be the last of our wonderful fall weather. Check community calendar for details.
Saturday

Harvest of Talents
Lincoln Police Department open house
Kids' downtown Lincoln costume parade and trick-or-treating (starting 2 p.m. at Joyce's Closet)
Eminence Christian Church bazaar
Middletown Methodist Church soup supper and country store
Taste of Mason City

Sunday

St. John's Lutheran Church, Hartsburg, luncheon and craft and bake sale
Central School dedication and tours

Weekend

Lincoln Jaycees Haunted House

Lincoln College fall play, "Book of Days"

Illinois Raptor Center Owl Prowls




Lincoln earns first place in Illinois tourism

Central School dedication and tours Sunday

A reminder that could save your life

Illinois first state to be awarded highest rating for bioterrorism preparedness
Logan County leading at county level

First things first
Lady Railers are the undefeated CS8 champions!

LC defeats Carl Sandburg in four games

LC women's soccer season ends
LDNs of the past week: