There's something in the air
2005 Lincoln Art Festival and more

Send a link to a friend
[AUG. 25, 2005] Do you feel it? There's energy in Lincoln's air. All you have to do is drive by any of the sites that will be hosting one of four days of special events this weekend and you will see a semblance of worker ants in nonstop motion. Or you could just observe the webcam that has been set up at the Logan County Airport, site for the balloon fest, and watch the transition from mellow countryside to a mecca of tents, food trailers and, later, masses of hot-air balloons and spectators.
While the large, colorful balloons dominate attention to the skies, you will find a quantity of other sensory delights around town that stay earthbound.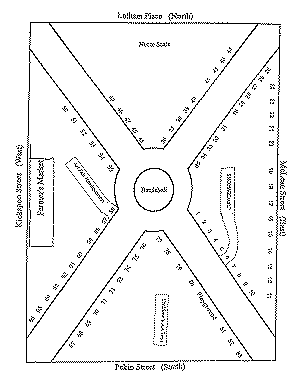 [click on map for larger image]
On Saturday and Sunday
Since the 1970s the Lincoln Art Festival, which started this whole event weekend, has drawn crowds to Latham Park. The festival hosts a diversity of mediums carefully selected for their quality. Artists come from all over Illinois and around the country bringing in their wares. Gentle music fills the air, adding an ambience to an already idyllic setting.
In the morning you can stop in at Lincoln's farmers' market to find farm fresh produce and baked goods on the Kickapoo Street end of the park.
Across the way is a half-block of fun for kids in Kids' Zone. There you will find free and low-cost activities for the kids. This area has doubled this year. Trucks will soon be arriving and setting up new play equipment.
Bookworms and collectors will want to drop back toward the library and head for the basement in pursuit of new finds. The annual book sale is a popular event that sees bags and bags of bound intelligence carried out the doors to shelves in new homes.
Strolling down the street toward the Logan County Courthouse brings you to a more recent addition to the festival activities, The Art of Wine. In its third year and met with great success, you will find a stretching white tent. Inside offers a sophisticated setting with a "take a load off your feet attitude" in a relaxing atmosphere. It's a great place for friends to sit down and review what they've seen or bought and contemplate their next plan of action. Music sets a background for amiable conversations.
Oh, and you can sample premier wines from Illinois wineries at a small fee.
Moving on, traveling past the movie theater to the other side of the square, Scully Park once again hosts the flea market and a number of business that offer garden ornamentations and other crafts. You will find more food there also.
Sunday only
The Postville Courthouse grounds host an 1800s Faire with tradesmen and crafters in period clothing providing demonstrations in the afternoon.
The Art of Wine hosts a grape stomp at 2 p.m.
Lincoln Speedway races begin at 5 p.m. at the Logan County Fairgrounds.
Cool Cruisers car show will be downtown in the evening.
Balloon flights are scheduled for Friday afternoon, Saturday morning and afternoon, and Sunday morning. Balloon glows are Friday and Saturday evenings.
It only comes once a year, so get out and enjoy some or all the fun you can. And while you're at it, make a visitor feel welcome. It's your chance to show what a great community we live in.
See the events calendar for a full listing of times and places of all the Lincoln Art & Balloon Festival events this weekend.
Previous article