Preparing for severe weather
Before severe weather strikes, stock emergency supplies in the event you are snowbound or without electricity for a period of time.
Emergency supplies include the following items:
Portable radios and flashlights and extra fresh batteries. Make certain these items work.
A supply of food that can be prepared without an electric or gas stove, and emergency cooking equipment and the fuel needed to operate it.
An emergency supply of water, especially if the standard water supply relies on a water well activated by an electric pump.
Plenty of candles and matches.
Appropriate clothing, such as insulated underwear, many layers of thin clothing (rather than single layers of thick clothing), mittens (rather than gloves), hats, scarves, boots and warm socks.
Sufficient heating fuel.
Emergency heating equipment and fuel (e.g., non-electric heater or gas fireplace). If you plan to rely on a wood-burning stove or fireplace, be sure to have a supply of dry, seasoned wood.
Fire extinguishers. Teach all family members how to use them.
An ample supply of prescription medicines.
If you are stranded at home and it is necessary to use an alternative form of heat, keep the following in mind:
Use heating fuel sparingly.
To conserve fuel, lower the heat and close off rooms that are not in use. Avoid unnecessary opening of doors and windows. Stuff towels or rags in cracks under doors, and close draperies or cover windows with blankets at night.
When using fuel heating devices, such as kerosene fuel heaters, avoid a buildup of dangerous fumes by maintaining adequate airflow.
Maintaining your water supply
Extreme cold can cause water pipes in your home to freeze and sometimes rupture. When very cold temperatures are expected:
Leave all water taps slightly open so they drip continuously.
Keep the indoor temperature warm.
Improve the circulation of heated air near pipes. For example, open cabinet doors beneath the kitchen sink.
If your pipes do freeze, do not thaw them with a torch. Instead, thaw them slowly by directing the warm air from an electric hair dryer onto the pipes. If you cannot thaw your pipes or if the pipes are ruptured, use bottled water or get water from a neighbor's home. As an emergency measure -- if no other water is available -- snow can be melted for water. Bringing water to a rolling boil for three minutes will kill most micro-organisms or parasites that may be present but will not remove chemical pollutants sometimes found in snow.
Winterizing your car
Check your owner's manual for instructions on getting your car ready for winter. Recommended steps include inspecting the battery and the ignition, as well as the cooling, fuel and exhaust systems. Also, be certain your car is equipped with the necessary items if you should become stranded, and review the following driving tips.
Safe winter driving
Fewer daylight hours and the low temperatures that produce slippery road conditions make winter the most hazardous driving season. Drive slower and increase your following distance. Brake gently with a slow, steady stroke, repeated as necessary to maintain control of the car. If your car is equipped with an anti-lock braking system, press and hold the brake to the floor. Do not "pump" the brakes. Let the anti-lock braking system take control of the braking.
Brake early when coming to an intersection or stop. Approach bridges, shaded spots and overpasses slowly as they may remain icy after the rest of the road is clear and dry.
If you begin to slide, do not hit the brakes. Keep a firm grip on the steering wheel and steer the car in the direction you want the front to go. Do not touch the brakes or the gas until the tires regain traction.
Do not use cruise control.
[to top of second column in this article]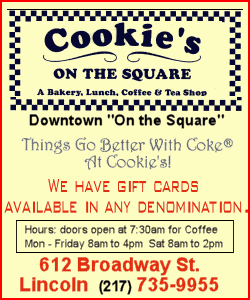 Before starting even a short trip in bad weather, check the car's lights, heater, wiper blades, antifreeze and gas tank (which should be full). Chains also may be used in states where they are legal.
It is best not to travel alone, no matter what distance you plan to go. Make sure someone else knows where you are going, the route you plan to take and when you expect to arrive. Travel by daylight, if possible, and use major highways.
Keep the car radio tuned to weather and road reports.
If you are stranded, do not panic. Turn on your emergency signal flashers or hang a cloth from the radio aerial or car window. REMAIN IN YOUR CAR and wait for help to arrive.
Run your car engine to keep warm, but do so sparingly to conserve fuel. Also, remember to crack a window for proper ventilation and keep the exhaust pipe cleared of snow. Do not let everyone in the car sleep at the same time. One person should watch for rescue crews. To maintain body heat, exercise and keep active as much as possible while remaining inside the car, but do not overexert.
Carry credit cards or extra cash in the event you must stop for overnight lodging or to have your car serviced.
Before traveling during the winter months, equip your car with the following items:
Blankets
Appropriate dress, including warm mittens and socks, boots, warm hat, insulated underwear, layers of lightweight clothing
Fresh batteries
Flashlight
Battery-powered radio
Sand and traction mats or old rugs
Shovel
Windshield scraper
Tool kit
Towline or rope
Fire extinguisher
Bottled water
Coffee cans with lids, to melt snow for water and sanitary purposes
High-calorie nonperishable food (granola bars, raisins, peanut butter)
First-aid supplies
Matches and candles
Road maps and a compass
Flares
Shoveling snow
Shoveling snow is extremely hard work, especially if you lift large loads and throw the snow some distance away from your body. You should not shovel snow unless you are in good physical condition. Cold weather itself, without any physical exertion, puts an extra strain on your heart. Know your limits when shoveling snow. Rest frequently and pace yourself. If you become breathless, stop, go indoors and warm up before continuing. If you experience chest or arm pain or numbness, stop immediately and go indoors.
Overexertion can cause sore muscles, falls and heart attacks.
Here are some shoveling tips:
Use a proper snow shovel and lift with your leg muscles, not your back.
Do not smoke while you are working. Smoking constricts the blood vessels.
Do not drink alcoholic beverages while you work. Alcohol may dull your sense of fatigue and cause you to overwork.
If you use a snowblower, be sure to have a firm footing before you start it. Remove obstacles from your path and aim the snow carefully. If rocks or chunks of ice are thrown by a snowblower, they may cause injuries or damage property.
Do not unclog the snowblower chute while the engine is running.
Do not wear loose clothing, such as a scarf, that may get caught in the snowblower.
To avoid losing control and causing injuries, Do not operate the blower over gravel, loose stones or on steep hills.