"Due to flooding we may have our spotting scopes and watching stations pushed back a little further, but there will still be eagle watching at Riverfront Park," said Rhonda Ferree, chairman of the Hav-A-Vision River Committee.

Volunteers will be at Riverfront Park to help spot eagles and answer questions. Complimentary hot beverages for eagle watchers will be provided by The Nature Conservancy.

Keepsake photos with Emi the Eagle will be available at Riverfront Park for free from 9 to 11 a.m.

The Arctic Express, a free shuttle at Riverfront Park, will be back again -- this year taking visitors to the Illinois Natural History Survey building, Havana Field Station, to learn about "Illinois River Critters" and warm up with coffee and hot chocolate.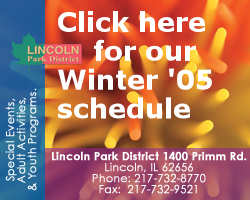 Those who want an early start on the day of eagle watching may start with "Breakfast with a Raptor" at the First United Methodist Church from 6:30 to 10 a.m. The cost for the pancake and sausage breakfast is $4 for adults and $3 for children under 12.
Three different shows will be offered this year at the Havana Park District gym through the Illinois Raptor Center. At 10:30 a.m. the Decatur-based organization will offer a program called "Raptors 101." At 1 p.m. the show will focus on "Red Tail Hawks," a familiar inhabitant of this area. The 2:30 show is entitled "Illinois Night Shift -- Nocturnal Birds of Prey."
Tickets for the shows are $2 per person, or $5 for all three shows. For ticket information call The Nature Conservancy at (309) 547-2730. Tickets may also be purchased at the door before each show.
[to top of second column in this article]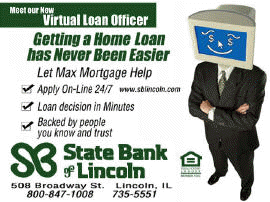 The Central Illinois Herpetological Society will have live displays at the gym also. Refreshments and nature-related merchandise will be available inside the gym before and after each performance. Doors open at 9:30 a.m.
Eagle art will be on display from 10 a.m. to 1 p.m. at the David Alan Badger Gallery. The art at the gallery will be the works of the winners of the 2005 Mason & Fulton Eagle Days Art Festival.
The Riverside Club will be information central from 9 a.m. to 1 p.m. Warm beverages and food will be available, and Wildlife Prairie State Park will present "Hey, We're Raptors Too!" from 9 a.m. to noon. The Illinois Winter Wildlife Photography Show will be on exhibit, and visitors will have a chance to help pick the winner.
The Havana Public Library District will join in the Eagle Days Festival with Family Story Hour events at 9 a.m. and 12:30 p.m. The library will offer an hour-long program of eagle games, prizes and eagle-related crafts. Youngsters will hear legends
and folk tales about the American bald eagle. For more information call (309) 543-4701.
Havana Eagle Days is sponsored by the Havana Chamber of Commerce, Havana Park District and The Nature Conservancy.
[Havana Chamber of Commerce news release]