Mayoral debate draws crowd

Send a link to a friend
[JAN. 25, 2005] Three Republican candidates running for the position of mayor of Lincoln answered questions before a large crowd at the Johnston Center at Lincoln College on Monday evening. Pat O'Neill, Dale Voyles and Beth Davis filled the Republican seats at the debate. The one Democratic candidate, Jan Tabor, declined to attend the debate before the Feb. 22 primary election.
Another candidate who has just entered the race as an independent, Tom O'Donohue, was in the audience. The filing opportunity for independents has just opened.

The event was hosted by Lincoln College's Union of Student Activists. The group's president, Krupa Dave, welcomed guests and opened the event. Students collected and ran questions and served as timers. Ron J. Keller serves as faculty sponsor for the group and coordinated the event.

Courier sales manager Rob Eilts served as moderator.

Lincoln College President Ron Schilling, League of Women Voters representative Sharon Pierce and Lincoln Daily News editor Jan Youngquist screened and compiled questions from the audience for the candidates.

The debate began at 7 p.m. and lasted over two hours with about a 10-minute break. Candidates began by answering a few pre-chosen questions. This provided time for the audience to submit their written questions. They supplied a plethora of subjects, enough to last the full evening and maybe then some.

Questions could be addressed to one or all candidates. Over the course of the evening all the candidates demonstrated that they were well-prepared to answer almost anything. They were allowed up to three minutes to respond and often took that full amount of time.

[to top of second column in this article]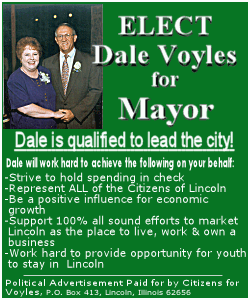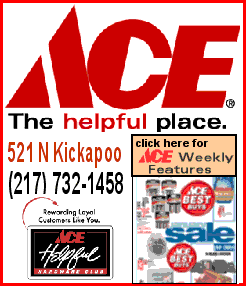 Questions posed a broad range of subjects. Candidates were asked how they would respond to specific situations as well as about their vision and general plans for Lincoln's future. They were asked about LDC developments, the potential ethanol plant, if they would get involved with the MII strike, how they intend to get higher paying jobs into Lincoln, what plans they have to support or develop economic opportunities, community spirit, how to curb criminal activities and other issues.
CITV Channel 5 recorded the debate in its entirety. Celeste Rogers said that they will begin airing it next week. Watch LDN for those scheduled times.
CITV airs over cable, but anyone with a computer, an Internet connection and audio will be able to view and hear it through the CITV website media player. LDN will provide a link to that address.
Channel 20, the Pantagraph, Lincoln Daily News and The Courier also covered the event.