Hats off...
...to Lincoln's Gregg Alexander, who won the Phoenix Award for Academic Achievement at ISU's recent academic banquet!
...to Lincoln's Brian Cook. His LA Lakers team has picked up his option for a fourth year in the league. Cook responded by pouring in six points in LA's opening-night win over the Denver Nuggets!
...to the LCHS Lady Railers on yet another regional championship! And this from a team that some felt was too young to do any damage. "Wait till next year" is more than a rallying cry for this group. In fact, my son and I recently picked out our seats for next year's state tourney... and we'd only be going if a certain team was going... so, you do the math!
...to the LCHS football squad as well. I know they had visions of playoffs dancing in their heads, but to go 4-5 again after the anguishing years of going 0-fer, they have made significant progress. I give head coach John Oaks a lot of credit for it. Now I hope the Railers will take the next big step and reach for the stars.
...to the Mount Pulaski Lady Hilltoppers for another stellar volleyball season!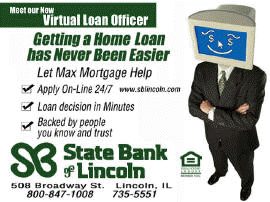 A Chicago world champion?
That's right... and you read it here first last winter or spring when I previewed the baseball season. Dig it out of the archives and you will see that I lauded GM Kenny Williams for the way he put the team together. I liked the starting pitching he attracted, and I agreed with Greg Taylor that Scott Podsednik was a huge acquisition. And yes, it was hard to give up Carlos Lee, but you tell me: Would you give up a player -- and I mean any player -- to win a title? (That is a rhetorical question).
Greg Taylor told me that over 200,000 people showed up in downtown Chicago for the White Sox parade! Is it asking too much for us to all do that once for a Cardinal or Illini parade? I might even be willing to do it twice!
How 'bout those Bears, Colts and Rams?
How many of you had the Bears in first place at this juncture in the season? Liars! I hate to call any of our loyal readers into question, but if you saw that, especially after Rex Grossman went down, would you please call me at 732-3168 and help me speculate the markets for my financial portfolio? I thought they would be OK, but I honestly did not see them in first place at this time! I certainly did not see them sweeping Detroit, as I felt the Lions might have done a lot more than the Bears did in the offseason. And maybe all those teams knew what they were doing when they passed on Mike Williams? How 'bout Thomas Jones? Does any player in the league mean more to the success of his offense than that guy does? I also have to give props to the job Kyle Orton has done and remind you that once again, Greg Taylor was right. He told any of you who were listening that things would be all right in Orton's hands, and he wasn't just whistling "Dixie!" And of course, the defense has been a pack of smothering, foaming-at-the-mouth MONSTERS OF THE MIDWAY! Apologies if that moniker was already taken. These jokers have allowed only one -- count 'em -- rushing touchdowns. However, the schedule gets tougher in the weeks ahead, and I'm already bemoaning the loss of Mark Bradley! Will Justin Gage please step up?
The Colts, on the other hand, seem to see the Bears' hand and are willing to up the stakes. Their defense has been just as impressive. And with Peyton Manning's willingness to balance the offense more, the Colts have yet to lose! We'll see how good they really are at New England. And you readers at home, work, vacation -- wherever you are: How important is it mentally for the Men of the Horseshoe to get over the Patriots? Will a win out there finally pass the torch... or will it have no bearing on what happens come playoff time? According to my fam and friends in Indy, it's all about the HORSESHOE!
The Rams are giving all of their coaches heart problems. It's about time they gave them to someone else besides their fans! I have no idea what is happening in the Rams' camp, but I do know that winning can cover a multitude of sins. I just don't have a lot of confidence in their long-term potential... probably a good bet for you to ride them heavy!
Illini and ISU football
What can I say about the Illini? We're the third- or fourth-youngest team in the entire NCAA. If we're patient, we have a bright future. I really like Ron Zook and I think his excitement and enthusiasm will eventually win the day, but it's gonna take some time.
ISU, on the other hand, has some great wins, notably over No. 1 SIU and No. 13 UNI. However, they stubbed their toe versus WIU last week and are a long shot to reach the postseason now.
The good news is...
...that it's time for Illini basketball! However, it is hard to even start a new season. That is because I don't think any of us will ever fully comprehend how magical last year's run really was! As Popeye used to say, "I've never had so much fun and still been conscious!" With that being said, I still think that this year will be fun too, but in a much different way.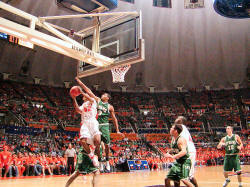 As for assessing our local teams, as I mentioned earlier I have had absolutely zero time in making any evaluations or assessments... Sorry to let you loyal readers down. All I know at this point is what I've been told or read. Greg thinks Illinois will still be very good -- will contend for the B10 title and make it to the NCAA's second weekend. I asked him to mail that in.
I do think the Illini will be good. However, my approach is more because of the huge amount of respect that I have for head coach Weber more than any belief or confidence I have in the team as of yet. I just remember shooting the "lights out of it" last season, and that masked so many shortcomings it was ridiculous! Who's gonna make all those shots this season?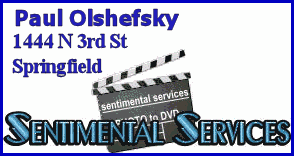 I do like hearing that we've shored up our inside game. If that's true -- and it's certainly something we've needed for several seasons -- then maybe we can have a more balanced attack, get more rebounds, get to the free-throw line more often, make them and take a huge load off of the half-court sets on the offensive end. In my book, the jury's still out.
As for the lineup... I don't care... I just want to win! (and, yes, that is one of the many reasons I retired from coaching. I simply got addicted to winning and I wasn't good for anybody after that point. I am happy to report that after intensive therapy under former Lincoln resident Craig Zastrow -- and BTW, that therapy is much too expensive -- I hope to achieve a full recovery by the time I am 90!).
Some have argued that Weber should stick to the three-guard offensive and let Dee throw the ball around the horn to Rich McBride and whoever's on the other side -- Calvin Brock, Chester Frazier or Jamar Smith (and yes, fans, that's the same Jamar Smith you Railer fans saw playing for Peoria Richwoods). You'll still have James Augustine in the paint unless the men in stripes continue to whistle five fouls per half on our man (what was up with that)? But joining him in the paint will be what we hear is a much-improved Shaun Pruitt and a now-eligible Marcus Arnold (transfer from ISU). We'll also have a beefy C.J. Jackson at 6-8, 265... but word on the street is that he will probably redshirt. (The NCAA has actually stumbled onto doing something right by allowing teams to play these guys during the exhibition games BEFORE making those redshirt decisions. I have to applaud that NCAA decision! But don't get me started on the mascot thing or all hell is gonna break loose.) And of course you will have two of my favorite players on the wings for the Illini in Warren Carter and Brian Randle. I think Greg will opt for the three guards, and I'll go with Dee, Augie, Randle, McBride and Carter... and we'll run you out of the gym with that lineup!!!
As far as ISU goes, I can only tell you that eight different guys made a 3-pointer according to post-game reports from their Redbird scrimmage on Tuesday night. One guy to keep an eye on is Roberto Flores, the sharpshooting guard who played for Lincoln's Geoff Alexander down in Daytona Beach, Fla., CC. The 'Birds lost a lot of firepower, including their best 3-point shooter ever, in the person of Gregg Alexander. They do have returning letterman Dilligard, Carlwell, Dana Ford and Khalif Ford to name just a few. Losing BIG LORENZO in the paint is a huge loss that I hope the 'Birds can compensate for. It sure is gonna be weird watching them without Alexander on the floor!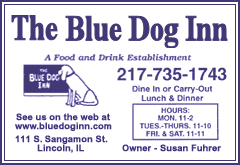 Starbucks religion?
For my non-sports items of the month I had to go with the news coming out of the Starbucks camp... and yes, LCC sells Starbucks coffee... Come on out and I'll even buy you a cup (is that the offer of the day or what?).
Starbucks recently announced that instead of just printing cool quotes on the side of their cups, they would soon begin including inspirational ones as well. In fact, one of the most well-respected pastors in America, Rick Warren from the Saddleback Church in Southern California, summed it up this way on why these are good encouraging, uplifting things for people to read:
"YOU are not an accident. Your parents may not have planned you, but God did. He wanted you alive and created you for a purpose. Focusing on yourself will never reveal your real purpose. You were made by God and for God, and until you understand that, life will never make any sense. Only in God do we discover our origin, our identity, our meaning, our purpose, our significance and our destiny. (Also appeared in USA Today, Oct. 19, 2005).
I wish I would've said that. I could think about those things for a lifetime and never say them as succinctly and as profoundly as Warren has done for those Starbucks cups. However, even though I am really excited about this development, I also walked away from it saddened and disappointed. It made me realize what a poor job I have done in sharing my faith. I've never been one to hit anyone over the head with my Bible. I always assumed that people have to seek out the meaning of life on their own terms at their own times. I guess I just figured that if I lived an exemplary enough life, people would see Jesus Christ living in me. I think Warren is telling me that I am wrong... and I guess I'm willing to admit it. He appears to be saying that that is not enough.
If you read his stuff or hear him speak, he is saying that millions of people do not realize that God created the universe and everything in it, including you and me. That He has delivered us His holy, inspired Word (the Bible) that tells us everything we need to know about Him, about life, what our purpose is and what will happen in the future. He also indicates that many people do not even know who Jesus is. They don't realize that He is the one and only true Son of the Father, and the ONLY way that we can be reconciled to the Father is through the blood of Jesus. That is because we can read for ourselves in Romans 3:23 that "All have sinned and fall short of the glory of God," and again in Romans 6:23 that "The wages of sin is death but the gift of God is eternal life in Jesus Christ our Lord." Eternal separation from our Creator does not sound like a place (hell) I wish for anyone to go. However, Jesus Christ is our advocate. He died in our place and took our sins upon himself. John 3:16: "For God so loved the world that He gave His only-begotten Son, that whosoever believes in Him will not perish but have everlasting life." It is an amazing gift that even after hearing about it for almost 50 years I STILL can't fathom.
I do want to apologize. Many of my friends checking in here should have already heard this news from me before. I have let you down and I hope you will forgive me. Others will be upset that I even speak of such things... I'm willing to bear any fallout, so I have no misgivings on that front. Others know that these facts are undeniable and that something needs to be done immediately. I look forward to those upcoming conversations.
Until then, enjoy those Starbucks cups, and I hope that when you see one of those upcoming inspirational messages you'll remember what you need to do about it.
May God bless you all... and that's a wrap...
[Jeff Mayfield; picture by Ed Bacon]