20,000-year-old mammoth tusk and tooth found north of Lincoln

Send a link to a friend
11-foot-long woolly mammoth tusk now on display at the Illinois State Museum
[AUG. 15, 2006] SPRINGFIELD -- A recently discovered woolly mammoth tooth and 11-foot-long tusk are on display at the Illinois State Museum through Sept. 30. Officials unveiled the fossils at the museum on Monday for the first time since their discovery by a Lincoln College freshman and professor. Following the unveiling, Illinois State Museum Director Bonnie Styles and Lincoln College President John Hutchinson signed agreements that will preserve the fossils while also making them accessible to the public.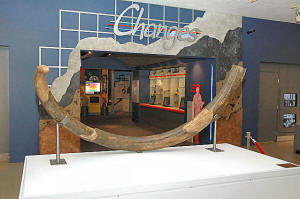 "Each day we work to make this museum a place of learning and discovery for our visitors," Dr. Styles said. "It's because of our relationships with public and private organizations, citizen groups, and educational institutions like Lincoln College that we're able to share Illinois' natural and cultural heritage with the thousands who walk through our doors."
Lincoln College freshman Judd McCullum found the mammoth tusk in a creek bed north of Lincoln during an environmental biology class project in September 2005. Dr. G. Dennis Campbell, Lincoln College professor of biology and earth science, was delighted with the find. "Judd is such a great outdoor person and has an excellent eye for nature," he said. Campbell found the tooth several months later.
Lincoln College contacted Dr. Jeffrey Saunders, curator of geology at the Illinois State Museum, to advise the college on the discovery. Following their recovery, the specimens have been at the Illinois State Museum's Research and Collections Center in Springfield undergoing study and conservation.
According to Saunders, the tusk and tooth are from a male woolly mammoth that was about 50 years old at the time of its death about 22,000 years ago. Radiocarbon dating of a sample from the tusk is under way and will determine more precisely the age of this Ice Age elephant.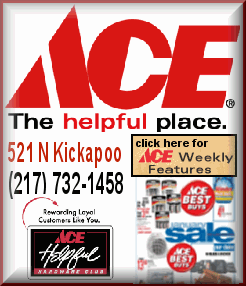 Lincoln College and the Illinois State Museum have collaborated to preserve the woolly mammoth tusk and tooth and also make them accessible to the public. The Illinois State Museum holds a premier collection of mammoth and mastodon fossils. Following the premiere at the Illinois State Museum, the tusk and tooth will be on exhibit in the Lincoln College library.
"When Judd originally found the tusk, we relied heavily on the expertise of the Illinois State Museum and followed their suggestions on how to preserve the item. I'm elated with this outcome and happy that Lincoln College can share this find with the public," said Dr. Hutchinson, the college president.
The tusk and tooth will be on exhibit in the lobby of the Illinois State Museum until they are relocated to Lincoln College this fall. The museum is located at 502 S. Spring St. in Springfield. Hours are 8:30 a.m. to 5 p.m. Monday through Saturday and noon to 5 p.m. on Sunday. Admission is free.
[Illinois Department of Natural Resources news release]