Stay fit this winter at the Lincoln Park District

Send a link to a friend
Holiday special for college students
From Roy Logan, program coordinator
[DEC. 16, 2006] December brings a flurry of activities to the Lincoln Park District, from sports and aerobics classes to membership offers and classes to help us pass through winter while staying active and healthy. Let's explore each of these options in more detail.
We dedicated a court on Wednesday evenings for men's pickup basketball games. Games will start at 6 p.m. This is free for any guy with a membership, or just half off the track and court daily fees for nonmembers. This will be an unstructured league with teams chosen from walk-ins. Call your own game and get a workout in as well.

December gives us a new member promotion. If you have never been a member of the Lincoln Park District Sports Center, this is your month to join! Purchase a full access or circuit membership and receive an extra month at no charge. That's 13 months of membership for just the 12-month rate. There are three levels of membership, with price brackets determined by age and residence. The Sports Center is open from 5:30 a.m. until 10 p.m. Keep in mind that our circuit or full access memberships also include free use of our aerobics classes.

For that "poor, starving college student" home on break, we have a special offering. We have a full access membership that is valid only from Dec. 15 through Jan. 15. The cost is $35 in district and $40 out of district. You will need to present your college photo ID at the time of purchase and provide proof of residence. All memberships are sold at the front desk, located adjacent to our business offices.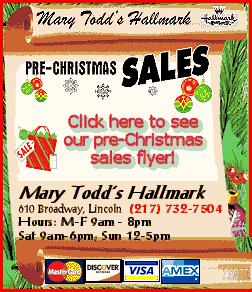 After the rush of the holidays, we often look for something to get us up and off the sofa. Mike and Julie Beiser come back to the park district and will teach ballroom dancing on Sunday afternoons for four weeks, beginning Jan. 7, from 2 to 3:30 p.m. Learn the swing dance, nightclub two-step and the cha-cha. You'll want to wear comfortable clothing and slick-soled shoes. Past participants have commented repeatedly how much fun they had and that they learned so much. Cost is $50 per couple.
If you are having problems finding a perfect gift for someone, you may want to consider a Lincoln Park District gift certificate. Gift certificates are available in any dollar amount and may be used toward any of our programs or memberships. A membership to our Sports Center, equipped with some of the latest fitness equipment, can be a gift that gives healthy returns for years to come. The Sports Center also boasts two indoor basketball-volleyball courts and two indoor tennis courts, along with our walking track. If you have questions, please feel free to call us at 732-8770. Stop in for a guided tour Monday-Friday between 8 a.m. and 4 p.m.
[Lincoln Park District news release]