If you coached for 20 years and somehow managed to luckily win an amazing 20 games a year, that would be only 400 victories. You'd have to win 20 for 25 years to get to 500. Certainly Alexander has seen a fair share of quality players come his way. And with the exception of one joker he employed, the majority of his assistant coaches have been top drawer. I don't care. To win 500 games is an exceptional milestone, and in my mind, only the best coaches in the business ever reach those lofty heights.

I'm sure his wife and family have been a big part of his success. You can't accomplish great goals without tremendous support like he has gotten.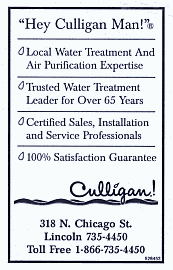 I hope fans realize that they are witnessing something pretty special. When you travel as much as I do, you go to hundreds of towns where the home folks WISH that they had a special coach. We have one in Lincoln, and it has been a wonderful sight to behold. By the size of the crowds now following the team and the nice home crowds that seem to be showing up for the games, many more people appear to be appreciating what we have.
The LDN wants to take this opportunity to salute Alexander for reaching such an awesome high-water mark! I just hope he has another few hundred in him before he hangs up his -- Diet Coke can!
Also, congratulations to the coach and his Railers, who went 4-1 in the Meijer Classic at Chatham-Glenwood, including nice wins over the hosts, Taylorville and Jacksonville.
[See pictures from the Lincoln-Jacksonville game.]
[More pictures from the Meijer Classic.]
Lincoln appears to be peaking at the right time and may continue to surprise a lot of people along the way. They control their own destiny in the Central State Eight race, and since they'll be hosting the regional, they hopefully will win those games before heading to the sectional round.
2006 Illini forging identity of their own
I think Illini fans may be spoiled. After riding along on last year's 37-2 season of a lifetime, people just expected more of the same from the '05-'06 contingent. However, gone are Nick Smith, Roger Powell, Jack Ingram, Luther Head and Deron Williams.
Even Greg Taylor was telling me how good Illinois was going to be this season. I kept asking him, "Where are the points going to come from?" and he kept telling me not to worry, that the boys will just keep winning. In a way, we were both right. Sometimes the points don't come and sometimes we win anyway -- which is a nice gig, if you can get it!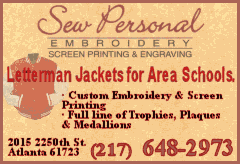 This particular team has the opportunity to write its own ticket. There are two or four teams that look particularly imposing to this incredibly partial onlooker. Duke, Villanova, Connecticut and maybe even Florida look to be the class among the nation's elite teams, but there is not a dramatic falloff to the next tier of teams. What I'm trying to say is that this may be a year where there is no clear favorite or two and that any of about 12 teams or so could come away with the ring.
However, if Illinois has any vision of being one of those teams, there are a few things they will need to do consistently to maximize their opportunity:
Play the stifling, suffocating defense they opened up on the Northwestern Wildcats Saturday for 40 minutes, instead of the 25 they demonstrated in the ballgame. Illinois was closing out on the perimeter so tenaciously that they were giving NW only a single-threat option -- if even that. Northwestern made only four baskets in the fist half. That's pretty good D in my book on any level.
James Augustine led the way, holding the Big Ten's leading scorer Vedran Vukusic to only five points, and by the time he finally scored, his contribution was inconsequential.
Dee Brown and Chester Frazier put amazing pressure on the ball and just wouldn't let the Wildcats go where they wanted to go.
Warren Carter continued his excellent play of late and contributed a career-high 12 rebounds to go along with his rapidly improving defense.
Rich McBride has been pretty consistent in his defensive play most of the season, and I think it has kept him on the court while many have clamored for more PT for Jamar Smith. I don't see it. I say, let Rich continue to bring it, and don't be surprised if his stroke gets better and better as his confidence improves -- but, I digress. This topic was defense, and Rich has handled his assignments well, or Weber would already have impacted the team significantly in this area.

Offensive execution improved some Saturday, but it still has a long way to go. The Illini seem to sit back and not penetrate as much as we all know they can. They seem to be willing to rely on 3-point shots a little too often. All this while the bigs are emerging into a force down in the paint. I'd like to see the guards pound the ball down into the posts, especially early in games. Plant the seed that the defense needs to collapse, which could create way more open looks for our shooters. It may also get us to the free-throw line a little more often (more on that later). I would also enjoy seeing many more cutters and crisp, unselfish passes to people with better shots than the original look. It wouldn't hurt to see more production in transition and more run-outs for easy hoops. That would take a lot of pressure off the half-court offense.

Shooting a higher percentage of free throws will definitely win us a couple of games. Make them or miss them, I expect that whatever we do may well, in fact, determine our fate in the Big Ten race. Also, if we improve in this aspect of the game, it could bode well for us during the NCAA tourney. As this past weekend was Upset Saturday, we saw losers and winners oftentimes crowned at the charity stripe.

Mental toughness may well decide what kind of a year these Illini eventually end up with. It was a good sign in the comeback against Indiana, and it certainly was in effect versus Northwestern that the Illini demonstrated a steely determination. That kind of gritty play could help them grind out some wins that could push them over the top. I still think that Illinois' unfavorable schedule will hurt them the most in their quest for an unprecedented threepeat.

More help from the bench wouldn't hurt this team at all. In fact, the great play by Warren Carter and key contributions from Jamar Smith, Marcus Arnold and Chester Frazier (who I thought played extremely well in the Northwestern game) would complement the starters nicely. The games the Illini have lost have been ones in which we did not get enough help from the reserves. That will need to change dramatically in the days ahead to entertain serious thoughts of winning the league and or having a deep tourney run.
There are many others, but those are just a few of the observations I can make in seeing just a handful of games this season. Coach Weber and his staff never cease to amaze me with the stuff they come up with in preparing for opponents and in trying to get our guys to improve. The Illini seem to be incredibly well-prepared for their opponents, and it seems they lose only when they don't execute. If he can continue to reload like this instead of having one of those down years every two or three years, it's going to be a lot of fun in Illini Nation.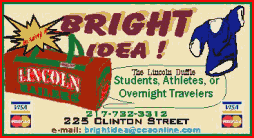 Speaking of fun, I'm definitely NOT down with all the flamers on message boards who have conniption fits when we lose to Iowa and Indiana. I don't like it either, but I know what we're going to encounter on the road, and I expect a few that won't go our way.
Hopefully Illinois will take care of business in their next two home games, versus Minnesota on Wednesday and Purdue on Saturday; and then, who knows, maybe will play well in Cheeseland once again!
It's Seattle and Pittsburgh in the Super Bowl
I am so happy for Seattle and the Seahawk fans. If you know people from out there, you know how passionate they have been about their teams, and this is just a great sports story. And how 'bout their 12th man? I've heard a lot of loud crowds in my day, but few can rival the raucous, zany Seahawk fans. Coach Mike Holgren promised to take all of them to the Super Bowl. Just how big is that stadium in Detroit? It must be bigger than we originally thought.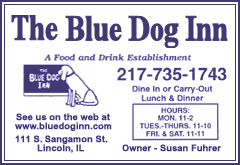 I've never been a fan of the Steelers, but you have to marvel at a team that went on the road for three straight weeks and didn't just win, they dominated their opponents. That may be worthy of a spot in the Super Bowl.
However, I'm still not convinced that the wild card format is what's best for the game. Yes, it keeps a dozen or so clubs and their fans interested until the final two weeks, but where's the reward for being consistent all year? I'm hoping that the game will reach the hype, but mark me down as someone not all that crazy about a sixth seed representing the conference as the league champion. Something just doesn't seem right about that to me -- and when Commissioner Taglibue calls me, I'll be happy to point that out.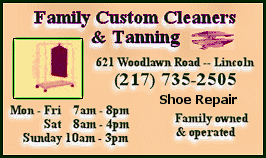 Lady Railers off the snide

If my stats are correct, the Lady Railers stopped a nasty losing skid to beat SH-G and Peoria Manual to lift their record back up to .500. The team is starting to come into its own and hopefully will be primed to make a nice playoff run in the near future.

Lincoln College teams making lots of noise

Stand up and be counted if you are a fan of the Lincoln College Lynx or Lady Lynx right about now. How 'bout the play of your squads of late? The ladies came from behind to win a thrilling 67-62 contest over the seventh-ranked team in the country, from Lewis and Clark. Lincoln's Tiffany Tungate continues to lead the team to victory. Coach Carol Wilson's cagers are enjoying the finest season under her command and find themselves at 4-2 in the league and 14-7 overall.

The men bounced back from a disappointing loss at Parkland last Saturday by outlasting Lewis and Clark 97-91 in double overtime. Lincoln High School product David Pickering dished out nine assists for the Lynx and continues to do everything needed for the hosts as they are enjoying a top five national ranking!

[See other stats from the Lincoln College games.]

Congratulations to these two fine teams and good luck in the games ahead.

Lincoln Christian College announces Hall of Fame weekend

LCC will be hosting its annual Hall of Fame festivities this weekend in the Laughlin Center. The event gets under way Friday as the volleyball alums play a match at 6 p.m., which will be followed by a women's alumni basketball game at 7:30 p.m. Men's basketball alums will take the floor at 9 p.m. (IF they can stay up that late).

Then on Saturday, LCC will host the Hall of Fame banquet at a 10 a.m. brunch. It figures to be a wonderful time of fun and fellowship.

In addition, the LCC Angels have been playing quite well of late and are searching for an unprecedented third straight trip to the national tournament.

The Preachers will be scrambling in hopes of capturing another win in what has shaped up as a rebuilding year. LCC will host St. Louis Christian College Saturday at 3 p.m., and they invite a large crowd from the general public to come out for the contest.

Inductees

One last thing, I want to personally salute all the LCC Hall of Fame inductees. It is a well-deserved honor! [See news release.]

Have a great month, everybody!

Non-sports item of the month

I'm glad I was born. I know I can't speak for everyone on that, but I've enjoyed this adventure we call life. As I reflect on this anniversary of the Roe v. Wade decision, I can't even fathom the impact it has made on me, our nation and our world.

I get depressed when the media spends the week or the month just trying to get me to see why a woman has the right to choose or why she doesn't. It sometimes even shocks me as a rather drastic measure just for the convenience of a better-late-than-never birth extinguisher. But yet as a country, we don't want to legislate morality.

I guess I'm still just puzzled as to why the child has no say in the matter. I'm equally foggy as to why if someone goes into a hospital and shoots a newborn it is murder, but a doctor killing that same child days before is a "procedure."

Now, you can lecture me and point out all the places where I am wrong in this argument, but who's going to explain it to the millions who have been slain? And at what price has this decision been wrought? If people are truly our greatest resource, what damage have we done to our country and our world?

A counterargument would be how much has been saved and that the world is already overpopulated. Touche. But it could also be asked, How many potential friends have we lost, and have we possibly killed off the person who would've invented the cure for cancer or a diplomat skilled enough in harmony to bring about peace in certain sectors of the world?

And what about people waiting to adopt? It seems ironic to me that babies are being destroyed when loving couples are on waiting lists hoping to be blessed with one of these precious little ones.

And I wonder, and I wonder and I wonder.

And yes, I've been to Washington during this eventful week and can only describe the scene to you as a sad picture of modern-day society. While I was happy to live in a free country where I could assemble and march, it appeared to me then and it sometimes does now that many people there then and many that make their voices heard now just want "their side" to win or to be right.

I guess I just wonder about those who have no voice in the matter at all, and I wish I could speak for them.