LCHS registration

Send a link to a friend
[JULY 25, 2006] The first official day of classes at Lincoln Community High School will be Aug. 21. Students are to report to their first-period classes at 8 a.m., and school will dismiss at 11:05 a.m. Buses will run their routes according to the regular bus schedule. Note: No student living within 1.5 miles of the high school will be provided with bus transportation.
All students are to register and pay their fees in the school cafeteria according to the following schedule:
Monday, July 31, 9 a.m.-noon -- Freshmen

Monday, July 31, 1-3 p.m. -- Seniors

Tuesday, Aug. 1, 9 a.m.-noon -- Sophomores

Tuesday, Aug. 1, 1-3 p.m. -- Juniors

Wednesday, Aug. 2, 1-3 p.m. and 5-7 p.m. -- Anyone
Note: Students not able to register at their scheduled time are to register Aug. 2 during the hours available. Students are reminded to bring their Social Security number with them.
Registration fees for the 2006- 2007 school year are as follows:
Freshmen -- $68.50 plus required workbooks

Sophomores -- $106.50 plus required workbooks

Juniors -- $56.30 plus required workbooks

Seniors -- $56.30 plus required workbooks
Band students must pay a $7.25 fee for uniform cleaning.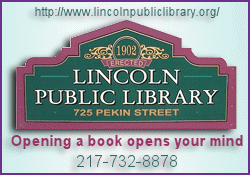 Individuals requesting a textbook fee exemption must present a letter from the Public Aid office as proof of being a public aid recipient.
During freshman registration, student council members will be available to assist freshmen with finding lockers, classes and answering any questions they may have about high school.
As a service, LCHS will have student accident insurance forms available. Materials may be picked up at registration. Student athletes are reminded that they must have medical insurance coverage or fill out a proof-of-insurance waiver form prior to beginning practice.
Student lunch prices for the 2006-2007 school year will be $2. Lunches will be served beginning on Aug. 22. Breakfast will also be served every day for $1.20.
Senior reserved parking will be assigned on a first-come, first-served basis. Seniors who met or exceeded all specified requirements on the PSAE test taken during the spring of their junior year will have their $25 parking fee waived. All other freshmen, sophomores, juniors and seniors will pay $25 to park in the LCHS parking lot.
[LCHS news release]