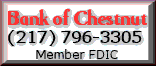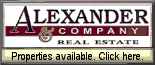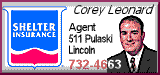 Church Directory

---
---
---
---
---
---
Contact us
---
LDN is best viewed with
IE 6 or Firefox 1.x.

---
LDN awards
Local:
Dec. 16, 2001
Local Emergency Planning Committee
Jan. 25, 2001
Logan County Healthy Communities Partnership
State:
Oct. 1, 2001
Illinois Public Health Association
posted daily OVER THE NOON HOUR (CDT)

City and county law enforcement departments have new vehicles to assist them in their duties. Whether watching for criminal activities, performing a search and rescue activity, or any number of other special circumstances where either on-foot or standard vehicle use is impractical, the agencies now have brand-new ATVs at their disposal. Jim and Shelley Horn of J&S Auto Centre made the vehicles available through a Bombardier program.
Pictured as the city received its ATV are (from left to right) Jim Horn, Police Chief Robert Rawlins, Mayor Elizabeth Davis, Edgar Alley, Doug Luken, Shelley Horn, Ron Meyer and Perry Groves.


\Community

Submit a classified ad online [Lowest cost for advertising in the county!]
Out & About
The Sports Page

Seven Logan County women to vie for crown

Military asked to come to Logan County Fair opening day
Armed forces picture set for evening

Gov. Blagojevich announces start of cooling grant program

State's public health director leads delegation to West Africa

Marriages

(No dissolutions)

(No court reports; jury week)

View the Logan County Comprehensive Plan and Greenways Plan drafts

Reminder: 'Summer Celebration' features helicopter rides on Saturday

Jefferson Street Christian Church hosts 'Fiesta' for Vacation Bible School

'Back to Mayberry' classes continue

Home Country: Aging, life realities and baby birds

IDNR bans firewood from emerald ash borer quarantine areas