Happy Wiener Fest

Send a link to a friend
[MAY 23, 2006] ATLANTA -- Do you like hot dogs? Do you like fun? If so, come out to historic Atlanta over the weekend, May 26-28, to enjoy the first Happy Wiener Fest! This festival, whose name is taken from Atlanta's wiener-toting Paul Bunyan statue and the smiley face water tower, will celebrate not only its namesakes but also Route 66.
Spectators will enjoy a variety of musical entertainment, including Professor John and the Chicago Swamp Band on Friday evening and Elvis Himselvis, aka Rick Dunham, on Saturday evening. If food is more your style, there will be a chuck wagon-style wiener cook-off as well as numerous food vendors and community meals. Enjoy fun and games and also arts and crafts booths for a little shopping.

But wait -- there's more! On Saturday morning, the city of Atlanta and the Route 66 Heritage Project will present the Stephens family, who loaned the Bunyan statue to the city of Atlanta, with the Route 66 Preservation Award. A cruise-in will also be on Saturday in this historic Route 66 community.

On Sunday from 1 to 4 p.m. is the Big Kids Toys event. Have you ever wanted to ride in a hot-air balloon? How about a Bigfoot or a 1940 Plymouth? If the answer is yes, then don't miss this one! Big Kids Toys will feature approximately 20 unique and exciting vehicles in which people will be able to take rides or have their pictures taken. Vehicles include everything from tethered balloons to motorcycles with sidecars to police cars and firetrucks. Tickets will cost $10 for eight rides or $2 per individual ride. This fundraising event will benefit the Atlanta Library's Downey building project and is sponsored by the Friends of the Atlanta Library and Museum.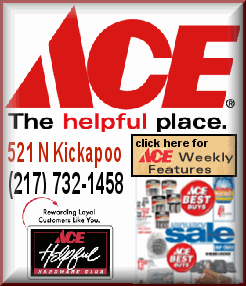 Also on Sunday is a Black Hawk helicopter fly-in, and there will be a community church service Sunday evening. Row Motors of Lincoln will have Dodge trucks on display for the weekend, and the National Guard will have a tent and Humvee on display as well.
There is something for everyone at Happy Wiener Fest, including plenty of hot dogs and happy people! The fun starts on Friday and will continue until Sunday. Atlanta is located midway between Bloomington and Springfield on Interstate 55 in Logan County.
If you're interested in joining the fun as a vendor or crafter, limited spaces are still available. Please contact Bill Martin at (217) 648-2351 or visit www.happywienerfest.com.
[News release from the Abraham Lincoln Tourism Bureau of Logan County]