LCHS homecoming week events announced

Send a link to a friend
[SEPT. 21, 2006] The 2006 homecoming theme at LCHS is "Railers Gone Disney." Final voting on the royalty nominees will be on Friday. Float building will continue through Monday. Homecoming events next week are listed below.
Dress-up day themes, Sept. 25-29
Monday -- "Sleeping Beauty," pajama theme

Tuesday -- "Little Mermaid," beachwear theme

Wednesday -- "Cinderella," prince and princess theme; senior dress-up day

Thursday -- "101 Dalmatians," black and white theme

Friday -- "Peter Pan," red and green day
Homecoming schedule
Tuesday, Sept. 26
Wednesday, Sept. 27
7:45 a.m. -- Senior class picture

5:30 p.m. -- Cookout, by the football concession stand

6:30 p.m. -- Wacky Olympics, on the football field (if raining, in the gym)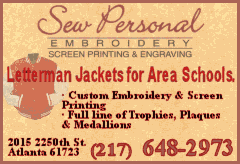 Thursday, Sept. 28
Friday, Sept. 29
12:45 p.m. -- Pep assembly, with announcement of homecoming king and queen
Early dismissal after the assembly

2:30 p.m. -- Homecoming parade

7 p.m. -- Lincoln Railers vs. Southeast
Royalty, class floats and class winner will be announced at halftime.
Saturday, Sept. 29
9 a.m. -- Float tear-down, government members and class sponsors

(10 a.m. -- Parade rain date)

8-11 p.m. -- Homecoming dance, in the back gym
[LCHS news release]