Memorial's physician network earns Employer of Choice Award

Send a link to a friend
[August 30, 2007] Memorial Health System's physician network, including Family Medical Center of Lincoln, has been named an Employer of Choice by Greensboro, N.C.-based Employer of Choice.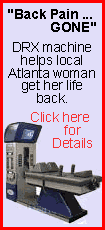 Memorial Health System's HealthCare Network Associates is one of fewer than 25 employers nationwide to earn the prestigious award. The designation follows a rigorous evaluation process and recognizes the network for "demonstrating dedication to a higher level of employee relationships, a level that goes far above and beyond normal practices," said Joyce Gioia, president and chief executive officer of Employer of Choice, the firm that certifies employers as deserving of the designation.

In addition to Family Medical Center of Lincoln, other clinics and physician offices in the network are located in Springfield, Chatham, Petersburg and Jacksonville.

"The Employer of Choice designation recognizes that our employees are our most valuable asset," said Travis Dowell, vice president of the network. "Recognition as an Employer of Choice would simply not be possible without the knowledge, skills, experience and dedication our employees, physicians, nurse practitioners and physician assistant bring to our clinics and our patients.
"Our 10 clinics and physician offices proudly work toward fulfilling Memorial Health System's mission of helping to maintain, restore and improve the health of the people and communities we serve. Those who come to us for care can be assured that as an Employer of Choice, we combine knowledge, skills and experience with the dedication and compassion required to provide the patient-centered care they expect and deserve."
Gioia added that Employers of Choice are better able to attract great employees, provide excellent career opportunities and retain dedicated talent than other organizations. "Employers of Choice have the knowledge, experience, resiliency and power to respond quickly to their customers' needs, delivering what customers want more efficiently and effectively than competitors plagued by employee turnover," Gioia said. "This strength allows them to maintain high levels of customer service and loyalty."
HCNA is a nonprofit, primary care network of nearly 40 physicians, 11 nurse practitioners and a physician assistant, supported by a full team of administrative and clinical staff at 10 clinic and physician office locations.
For more information about Employer of Choice Inc., contact Gioia at 336-282-2019 or visit www.employerofchoice.com.
[Text from Memorial Health System news release]