Kids get firsthand report on national issues

Send a link to a friend
Congressman Ray LaHood visits Zion Lutheran School
[FEB. 2, 2007] Students in kindergarten through eighth grade listened attentively to every word that U.S. Rep. Ray LaHood spoke during a morning assembly on Thursday at Zion Lutheran School. LaHood, a former schoolteacher himself, knew just how to handle this crowd and established an orderly question-and-(short)-answer dialogue with his audience.
Should anyone think that the age of the audience might influence the depth of questions, think again. They wanted to know about the war in Iraq, if the congressman had been there to see it (he had), if the U.S. military should continue to be there, and if so, how long?

He said that people are war-fatigued. You pick up the paper or listen to the 5:30 news and you see how many were killed or about the costs, he said. But you don't get to see the whole picture. In Iraq there are 16 provinces the size of Lincoln that are doing well. The problems are in Baghdad, he said.

"Are we making progress? Yes," he said, "Kids are in school now, businesses are open, mosques and synagogues are open, hospitals are open. A lot of people are living peaceful lives."

He was asked his thoughts about Barrack Obama and Hillary Clinton running for president. "Is it time for a woman president? Nobody really knows," he said. Of both candidates, he said that they have ideas that resonate with people.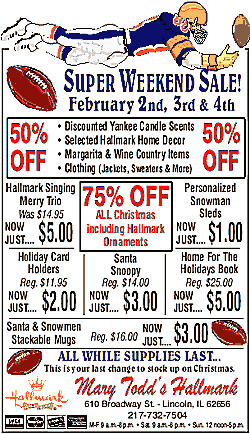 The congressman explained that he does not get too tangled up with what's going on in Washington. Rather, his focus is on paying attention to his district's needs, seeing that local officials are heard when their communities have needs. Such as when Lincoln Mayor Beth Davis calls from Lincoln and says we need help with the water district, he said.
Roads and communications are also important. Most recently he secured funds for the Logan County 911 telecommunications improvements that are in progress. He also attained funds toward the Fifth Street Road project for Lincoln and Logan County.
He is pleased that locally we are providing good health care to those in need and to our veterans. In our district, we have three clinics for veterans and a new health care clinic in Peoria that serves people without insurance, he said. He's also proud that the U.S. has a new $40 million, state-of-the-art rehabilitation veterans hospital in San Antonio, Texas, that can help soldiers who have lost limbs.
Good education and taking care of our senior citizens also enter his pursuits for the district.
When asked about his job, he said, "The best part of being a congressman is what I'm doing here this morning. There are a lot of big issues to talk to you about, and there is not just one side, there are many sides."
His responses to some other questions:
Prayer -- I believe in prayer. I pray every day.

Iraq -- We're going to be there for a while.

Bears -- I'm a Bears fan.
He was presented a key chain by the student council and blueberry muffins that a student baked herself.
In conclusion to the session, he charged the students, "Before any of you leave today, thank your teachers for what they do for all of you."