Countdown to 1 millionth museum visitor continues

Send a link to a friend
[JAN. 3, 2007] SPRINGFIELD -- On Tuesday, the Abraham Lincoln Presidential Museum announced the latest attendance figures as the countdown to the 1 millionth visitor continues. As of Sunday, the number of visitors that have toured the museum since April 2005 hit 997,410.
The winner will receive two free passes to the Abraham Lincoln Presidential Museum, good for unlimited visits for one year, plus a $100 gift certificate to the museum store, compliments of the Abraham Lincoln Presidential Foundation, the sponsor of the event.

Weekly attendance numbers are being posted every Monday on a digital counter in Union Square Park, across from the presidential museum, at the corner of Sixth and Jefferson. During the week leading up to the 1 millionth visitor, numbers will be posted daily.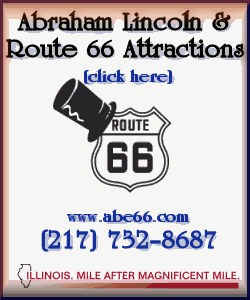 A contest to guess when the 1 millionth visitor will arrive has been extended to Friday. Entries can be dropped off in the museum or submitted via U.S. mail by Jan. 5 to:
1 Millionth Visitor -- ALPM
212 N. Sixth St.
Springfield, IL 62701
For a contest form and a complete list of rules, visit www.alplm.org.
[Abraham Lincoln Presidential Library and Museum news release]