'The Foreigner' brings humor to the LCHS stage

Send a link to a friend
[JAN. 15, 2007] The Lincoln Community High School Fine Arts Department will present the hilarious tale of "The Foreigner," a comedy of misunderstanding and misfortune set in a Southern fishing lodge. The show opens in the LCHS auditorium on Jan. 25 at 7:30 p.m., with another 7:30 performance on Jan. 26 and the closing performance at 2 p.m. Jan. 28.
The lead roles are Chris Powley as "Froggy" LeSueur, Tony Curcuru as Charlie Baker, Hannah Snyder as Betty Meeks, Todd Schumacher as the Rev. David Marshall Lee, Janel Filbeck as Catherine Simms, Cody Follis as Owen Musser and Taylor Muck as Ellard Simms.

This production is directed by Chris Gray, with assistant director Anastasia James. It is about an English writer, Charlie Baker, who has problems with social situations. His friend Froggy takes him to a lodge and tells everyone that Charlie is a foreigner and has no knowledge of the local language. When the neighbors and visitors assume Charlie does not understand them, they start to say things freely in front of him, causing hilarious yet dangerous results when the invisible empire decides to teach the "foreigner" a lesson.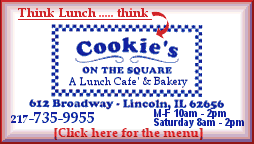 "'The Foreigner' is a hilarious play," Gray said. "It has humor in a variety of tastes, which various ages will be able to enjoy."
Tickets are $6 for adults, $5 for students and senior citizens, and $4 for children.
[LCHS news release]