World's largest covered wagon to be dedicated on Thursday
Send a link to a friend
[JAN. 30, 2007] The world's largest covered wagon, as listed in the Guinness Book of World Records, will be dedicated during a ribbon-cutting ceremony at 10:30 a.m. Thursday at the J&S Auto Centre and Penache Boutique location.
The ceremony has been arranged through a combined effort of the Abraham Lincoln Tourism Bureau of Logan County and the Lincoln/Logan County Chamber of Commerce. Refreshments will be served at Penache Boutique.

The Railsplitter Covered Wagon was purchased for the tourism bureau through a donation from Lincoln resident Larry J. Van Bibber. It is parked at 1006 Woodlawn Road.

"This is an excellent example of community-minded individuals and businesses that are willing to partner with our tourism bureau to bring an attraction such as this to our community. We are very grateful to Mr. Van Bibber and Jim and Shelley Horn of J&S Auto Centre/Penache Boutique," said Geoff Ladd, executive director of the tourism bureau.

The unique covered wagon was created by David Bentley several years ago as he was recovering from heart disease and has been located in the Divernon area. It has been a popular attraction for both Route 66 and Abraham Lincoln tourists and fits well with the tourism bureau's Abe66.com marketing campaign.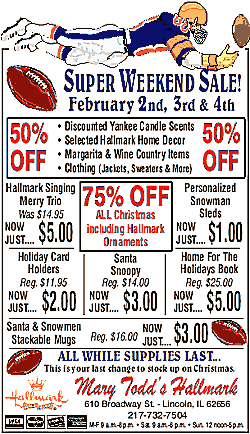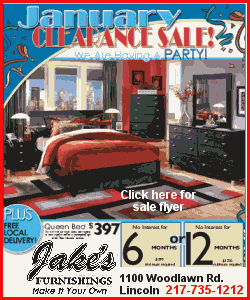 The fiberglass Abraham Lincoln is 12 feet in length (seated) and weighs 350 pounds. The wagon was hand-built out of oak and stands 24 feet tall, 12 feet wide, 40 feet long and weighs 5 tons. The front wheels are 10 feet tall and the back wheels are 12 feet tall.
Plans for the wagon include placing a large interpretive sign at the site and placement of a log fence around the wagon, courtesy of AmerenCilco and the Logan Railsplitting Association. By the way, the National Railsplitting Contest and Crafts Festival will be Sept. 14-16 this year.
For more information regarding the Railsplitter Covered Wagon, contact the Abraham Lincoln Tourism Bureau of Logan County at 217-732-8687 or info@abe66.com.
(Text from file received from the Abraham Lincoln Tourism Bureau of Logan County)