Trent Purdue

Send a link to a friend
[July 14, 2007] HARTSBURG -- Trent Scott Purdue, 43, of Hartsburg died at his home on Wednesday, July 11, 2007, after a long battle with pain.

Visitation is from 10 a.m. to 1 p.m. Monday, with a prayer service at 10 a.m., at Holland Barry and Bennett Funeral Home in Lincoln. His funeral will begin at 1 p.m. at the funeral home.
Burial will be in Holy Cross Cemetery, Lincoln.

Mr. Purdue was a self-employed carpenter.

He was born to Stephen and Diana Purdue on Aug. 1, 1963, in Lincoln.

He is survived by his parents, of Lincoln; his paternal grandmother, Betty Purdue of Lincoln; one son, Benny Purdue of Champaign; one daughter, Vienna Purdue of Lincoln; companion Lynn Johnson of Bloomington; three brothers, Todd Purdue of Quincy, Rodney (and Sara) Purdue of Clinton and Timothy Purdue of Missouri; one sister, Wendy (and Jamie) Baird of Bloomington; and uncles Gary Purdue of Cincinnati, Ohio, and Steven Donnan of Marshall.

He was preceded in death by a grandfather, Gerald Purdue; grandparents Arnold and Dorothy Donnan; and a great-grandmother, Lela Maloy

He was a member of Holy Family Catholic Church in Lincoln.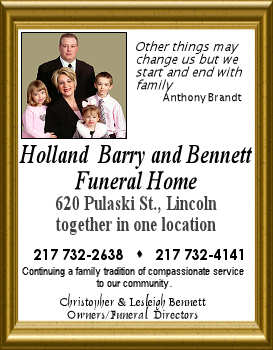 Mr. Purdue was an active member and vice president of Logan County ABATE and was a member of the Lincoln Eagles Lodge. He enjoyed riding his motorcycle and being with his family.

In lieu of flowers, memorials may be made to the family or a charity of the donor's choice.
Click here to send a note of condolence to the Purdue family.