Where can you celebrate spring, find the Bunyan statue and the smiley face water tower? Historic Route 66, Atlanta

Send a link to a friend
[June 04, 2007] ATLANTA -- Do you like hot dogs? Do you like fun? If so, come out on June 8-10 to enjoy Atlanta's Spring Festival! This festival celebrates the great, friendly people of the community and their three famous icons that put Atlanta on the map -- the Bunyan statue, smiley face water tower and historic Route 66.
The Atlanta Fire Department will host a walleye dinner on Friday evening starting at 5. Spectators will enjoy musical entertainment while they eat, as the Vintage Daze band, featuring Atlanta's very own Robbie Bell, will start at 6 p.m.

Saturday morning the Atlanta United Methodist Church will host a pancake and sausage breakfast at 7 to start your day off right. The townwide yard sales will be happening from 8 a.m. to 4 p.m. on Saturday, so be sure to get in on those great bargains!

Furrow's Winery will be featured in a wine-tasting tent, starting at noon on Saturday, and a car cruise-in will take place along this historic Route 66 community.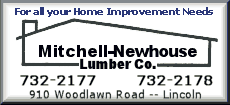 The Logan County Route 66 Yard Sale is also on Saturday and Sunday, and there will be several food vendors.
On Sunday from 1 to 4 p.m. is the Big Kids Toys event, featuring approximately 20 unique and exciting vehicles in which people will be able to take rides or have their pictures taken. Vehicles include everything from motorcycles with sidecars to police cars and firetrucks. Tickets will cost $10 for eight rides or $2 per individual ride. This fundraiser will benefit the Atlanta Museum renovation project and is sponsored by the Friends of the Atlanta Library and Museum.
Last but not the least, the Army National Guard and Air National Guard will have tents and various static displays.
There is something for everyone at the Atlanta Spring Festival, including plenty of great food and happy people! Enjoy fun games, arts and crafts booths, and lots of shopping. The fun kicks off on Friday from 5 to 10 p.m. and continues Saturday from 7 a.m. to 11 p.m. and Sunday from 10 a.m. to 3 p.m.
Atlanta is located midway between Bloomington and Springfield, at Exit 140 from Interstate 55 in Logan County.
For more information, contact Annette Chapman 309-830-7182 or visit www.atlantaillinois.org.
[Text from news release received]