Strong winds moving into central Illinois

Send a link to a friend
(10:49 a.m. Thursday announcement)
[March 01, 2007] A strong cold front has crossed the Mississippi River and will sweep across central Illinois through the afternoon hours Thursday. As the front passes through, expect southwest winds of 30 to 40 mph with gusts above 45 mph. Winds in the vicinity of showers and thunderstorms will be even higher.
The National Weather Service in Lincoln has issued a high wind warning in effect until 4 p.m. Thursday for the counties of Knox, Stark, Peoria, Marshall, Woodford, Fulton, Tazewell, McLean, Schuyler, Mason, Logan, DeWitt, Piatt, Champaign, Vermilion, Cass, Menard, Scott, Morgan, Sangamon, Christian, Macon, Moultrie, Douglas, Coles, Edgar, Shelby, Cumberland, Clark, Effingham, Jasper, Crawford, Clay, Richland and Lawrence, including the cities of Galesburg, Peoria, Bloomington, Normal, Havana, Lincoln, Champaign, Urbana, Danville, Jacksonville, Springfield, Taylorville, Decatur, Charleston, Mattoon, Shelbyville, Effingham, Flora and Lawrenceville.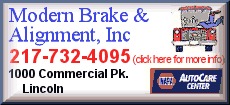 Expect winds to become southwesterly and increase to nearly 40 mph. Wind gusts will be above 45 mph. Winds near thunderstorms will be stronger.
A high wind warning means a hazardous high wind event is expected or occurring. Sustained wind speeds of at least 40 mph or gusts of 58 mph or more can lead to property damage.
[Text from announcement received from the Emergency Email Network]