Lincoln battles, falls short against Chicago Marshall at state
Send a link to a friend
[March 17, 2007] PEORIA -- The Lincoln Railsplitters fell behind early once again in the tournament, but this time could not overcome the early deficit, as they fell to Chicago Marshall 60-51 in the state quarterfinal game at Carver Arena in the Peoria Civic Center on Friday night.
Eighth-ranked Chicago Marshall, which features a four-guard lineup, jumped ahead 10-0 in the early going, holding the Lincoln offense to just nine points in the first quarter. The Marshall up-tempo, run-and-gun offense and 1-3-1 and triangle zone defenses caused a lot of problems for the ninth-ranked Railers.

"We have not seen zone in a long time," said Lincoln head coach Neil Alexander of Marshall's zone defenses. "I couldn't tell you the last team that zoned us. We've always seen man. When you don't see something for a long period of time, I really think we had a hard time adjusting."

Marshall had 14 fast-break points to Lincoln's two.

"They had great athletes," Lincoln coach Neil Alexander said of Chicago Marshall, "great size and strength, and I think it wears on us."

The Railers battled back in the second quarter to get within one of Marshall at 21-20 with 3:10 to play and at the half trailed 26-24.
Lincoln battled with Marshall through the third quarter, tying the score at one point at 29 with almost four and a half minutes to play. But the Railers could not get the lead as they had done three times before in the tournament. Marshall's high-powered offense, averaging 80 points a game, would be too much for the Railers. Marshall closed out the quarter on a 9-3 run, pushing the lead to 38-32.

"They're a little different team. They're very strong," Alexander said of the difference in falling behind against Marshall. "What makes them hard to defend is they have four or five people that can score."

Lincoln would battle back one more time in the fourth quarter, getting within two, 42-40, on a Kyle Young 3-point play with just over five minutes to play in the game. Then, Marshall would put the game nearly out of reach for the Railers.

[to top of second column]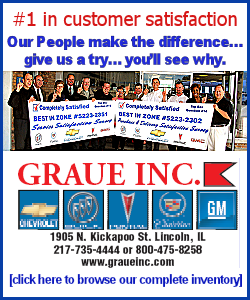 "This game reminded me of our game last year against Edwardsville, where they had three great shooters on the floor," said Marshall head coach Lamant Bryant of Lincoln's shooting, "only Lincoln had five good shooters on the floor."

A 16-6 Marshall run would push the lead up to 58-46 with under a minute left in the game.

Lincoln was led by senior guard Brandon Farmer with 21 points. Kyle Young added 10 points, and Alex Anderson had three 3s for nine points. Matt Schick was limited to just seven points.

Marshall was led by Ryan Hare with 18 points and Michael Stovall with 16 points.

The Railsplitters end the season at 33-3.