Michael Brown of New Holland, middle, recently graduated from the Lake Land College John Deere Ag Tech program. Brown is pictured with Allen Drake, left, John Deere Ag Tech instructor, and Corey Rabe, territory customer support manager for John Deere.
The training focuses on John Deere equipment and provides regional training programs for students sponsored by John Deere dealerships. The program is a college-industry partnership designed to provide opportunities for students and meet the need for qualified service technicians.
The other 2007 graduates of the John Deere Ag Tech program and their sponsoring dealers were as follows: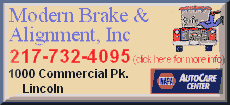 Justin Armstrong, Charleston, Arends Bros. Inc.; Dustin Deterding, Stanford, Martin Bros. Outdoor Power; Jordan Feltmeyer, Lanark, Curtis & Sons; Brett Frerichs, Hopedale, Cross Implement; Caleb Hawbaker, Sullivan, Sloan Implement; Joshua Jones, Marion, Ind., Harper Implement Co.; Drew Lansaw, Greenfield, Arends-Awe Inc.; Jay Ohnesorge, Dieterich, Sloan Implement; Scott Ray, Paris, Mo., Sydenstricker Implement; Quinton Shubert, Monticello, Heath's Incorporated; Brett Stees, Geneseo, Holland & Sons Inc.; Stephen Thole, Carlyle, Reichmann Bros. LLC; Jacob Wise, Warsaw, Indl, McKillip Equipment.
William Johnson, Monmouth, graduated from the John Deere Ag Sales program this year. He was sponsored by Monmouth-Stronghurst Implement.
Dave Cox, director of the foundation and alumni, and Pam Crisman, vice president for development, presented the annual Robert Schindler Scholarship to Blake Fortin of St. Joseph.
The John Deere Ag Tech program, a two-year associate in applied science degree program, began in the fall of 1993. The program serves Illinois, Missouri and Indiana. Lake Land is one of 22 community colleges across the United States and Canada to offer the program.
[Text from file received from Lake Land College]