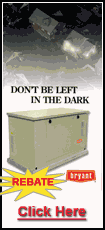 Registration for the car show is $3, which will go directly to the restoration project.

Geoff Ladd, chairman of the Route 66 Heritage Foundation of Logan County, said, "It's great to have them coming in to help us. I'm looking forward to seeing all the cars and having a lot of great food to save The Mill."

Visitors and will be able to participate in rare treats, such as tours of the restoration in progress and original schnitzel strips served with chips and a soda for $7. There will also be a 50-50 drawing and a display of antique cars.

In addition, the Route 66 Heritage Foundation of Logan County will be celebrating its first anniversary. The organization has hosted several successful events and is continuing the efforts to save The Mill as well as other Route 66 icons in the county.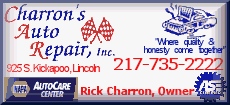 The Route 66 Heritage Foundation of Logan County was created to promote and preserve Route 66 sites in Logan County, after the historic Mill restaurant was slated for demolition. Working with the owner and city council members, the organization managed to save the building from the wrecking ball. The Mill is now a construction site as volunteers work to restore the building to its former condition.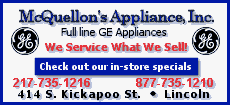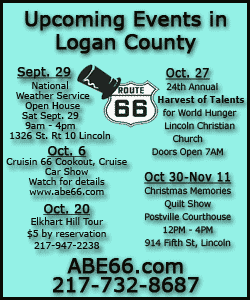 The Mill opened in 1929 under the name of the Blue Mill. Its proprietor was Paul Coddington, who would serve grilled sandwiches to patrons at any hour of the day or night. A Dutch-themed building with blue trim, the building featured a revolving windmill and waitresses dressed in blue with white aprons.
In 1945, Albert and Blossom Huffman purchased the building, added a barroom and dance hall, and then painted the building barn red. Over the years, the restaurant became famous for its fried schnitzel, originally made of veal and later of pork. By the mid-1980s the restaurant had lost most of the Dutch-themed interior and was becoming a museum of rather strange objects, including a mechanical leg protruding from a hole in the ceiling. The Mill closed in 1996; however, the building is still standing in its original location.
The Railsplitter Antique Auto Club has been an active organization in downtown Lincoln and hosts cruise-ins throughout the spring, summer and fall. They're always looking for new members, so come out to The Mill, 738 S. Washington St., and join up.
For more information on the car show portion of this event, please call 217-732-3245. If you have questions or would like more information regarding The Mill or the Route 66 Heritage Foundation of Logan County, please call 217-732-8687.
[Text from file received from Route 66 Heritage Foundation of Logan County]