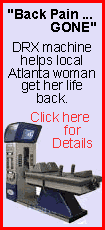 Fall Farm Day in Logan County will take place on Sept. 23, from 1 to 5 p.m., with a bus tour that covers agritourism sites in Atlanta, Beason, Chestnut and Mount Pulaski. The bus tour, which leaves from the Railsplitter covered wagon in Lincoln, will wind through the county and explore agricultural sites such as Prairie Earth Farms (an all-natural farm), Irwin's Dairy, Gail's Pumpkin Patch, the J.H. Hawes Elevator & Museum, Hoblit Seed, and the Robert Buckles Round Barn in Mount Pulaski.

The Robert Buckles Round Barn was added to the National Register of Historic Places on Feb. 10, 1983. Its roof was damaged after a 1927 tornado and remained damaged until a $30,000 repair and restoration was undertaken in 1982. This round barn was built in 1917. Illinois, as home to the Agriculture Experiment Station at the University of Illinois, played a key role in promoting and popularizing the round barn design. The round barn was the last of five types of American barns to be built by carpenters, the others being the Dutch, English, connected and Pennsylvania barns. Collectively, they represent the foray of science into the field of agriculture. Round barns are becoming quite scarce and are truly something to see.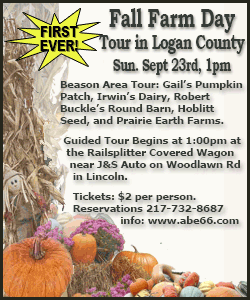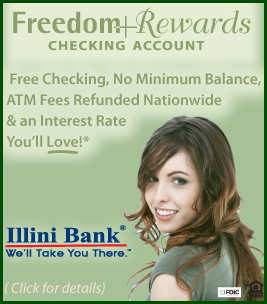 Additionally, two sites will have regular hours that day: J.H. Hawes Elevator in Atlanta and Gail's Pumpkin Patch, 1709 2000th Ave., Beason, will both be open from 1 to 5 p.m. Gail's Pumpkin Patch, a family-owned and operated business, will offer a variety of activities, as well as items for sale. There will be face and pumpkin painting, beeswax candle making, farm tours and machinery, and a honey extraction demonstration. You'll also be able to learn about agriculture in Abraham Lincoln's lifetime.
Geoff Ladd, executive director of the Abraham Lincoln Tourism Bureau of Logan County, says the idea of agritourism is "a great one for our county, and the bureau intends to increase awareness of the agricultural tourism opportunities in the area." Ladd added that annual tours are being planned, with different sections of the county being featured each year.
Seating on the tour is limited, so please reserve your spots as soon as possible. Tickets are $2 per person and can be reserved by calling the Abraham Lincoln Tourism Bureau of Logan County at 217-732-8687.
[Text from news release received from Abraham Lincoln Tourism Bureau of Logan County]