YMCA Exchange

Send a link to a friend
[April 05, 2008] Where can you get "The Best of Both Worlds"? At the Y, of course! Join us for a Y Kids "Hannah Montana" party. This second- through fourth-grade, girls-only party will be on April 18 from 6:30 to 9 p.m. Pizza and drink will be provided along with many fun and exciting activities based around the "Hannah Montana" theme. Stop by the Y office today to get your girls signed up.
*
Spring volleyball registration will continue through April 28. Join instructor Krista Hoban as she teaches your children the "fun" and "fun-damentals" of volleyball. Spring volleyball is on Tuesday nights, beginning May 6, and is for children in first through sixth grade. Sign your children up today as space is limited.
*
The Lincoln Area YMCA was a host site for the Lincoln Christian College Week of Evangelism event March 17-20. Approximately 14 LCC students, led by Dr. Mark Mangano, assisted the YMCA with regular programming and grounds maintenance projects. The YMCA staff is grateful for their volunteer efforts over the past several years during this special activity week and for the opportunity to collaborate with Lincoln Christian College.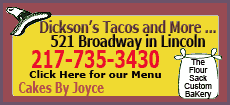 *
Get your children signed up for Y swimming lessons at the Lincoln Elks Club pool. Lessons are scheduled June 16 through July 26 for children age 6 months (with a parent) to 12 years. Morning and evening sessions are available. Class size is limited and will fill up fast, so be sure to stop by the Y office today to get your child registered.
*
Registration will begin soon for wee ball. This program is for children 4 to 5 years old who are interested in learning about baseball. Children will be instructed on hitting, catching and throwing, running the bases, and will play an abbreviated game. Wee ball will meet on Saturday mornings from May 31 through June 21. Stop by the Y today and get your wee one signed up.
The Lincoln Area YMCA is currently running its annual "Strong Kids" campaign, "Miles of Smiles." The campaign goal for 2008 is $12,000. Contributions received from the annual campaign provide financial scholarships for children whose family meets income guidelines. No one is turned away from playing and participating in YMCA programs for the inability to pay. Please call the Y office today to see how you can help support this mission of providing financial scholarships so every child can play, learn and have fun at the Lincoln Area YMCA. Campaign contributions are used locally only and can be applied to any of the YMCA programs, such as any sports, swimming lessons, art classes, day camp, before and after school, and so much more. Thank you for helping the Lincoln Area YMCA build strong kids, strong families and a strong community!
*
For more details on YMCA programs and events, please contact the Lincoln Area YMCA at 735-3915; 604 Broadway St., Suite 1; or online at www.lincolnymca.org. The Lincoln Area YMCA Activity Center is located at 719 Wyatt Ave.
[Text from file received from Lincoln Area YMCA]