Benefit concert planned for Perry Hahn
Schedule includes vocalists, pianists, harpist, guitar-mandolin duet

Send a link to a friend
[April 23, 2008] Vocalists, pianists, a harpist, and a guitar and mandolin duet -- these are some of the varied musical performances scheduled for a benefit concert Sunday evening in the sanctuary of St. John United Church of Christ in Lincoln. The public is invited.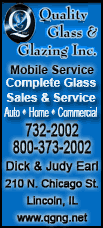 Proceeds from the concert will benefit Perry Hahn, who underwent a double liver and kidney transplant on Easter Sunday in 2007 at St. Louis University Hospital. Hahn is "doing wonderfully," according to his wife, Jan, but was told it would take a good 18 months to get his full strength back.

The music committee at St. John UCC has scheduled the concert for 7 p.m. Performers from the church include the chancel choir, adult chime choir and handbell choir as well as soloists Orry Ingram on piano, Laura Lee on organ, Verdeen Ingram on handbells and vocal solos by Wilbur Wilmert and Michael Schneider. Schneider, a voice major at Illinois Wesleyan University, will also sing with the chime choir.

A second chime choir on the program hails from Zion Lutheran Church in Lincoln.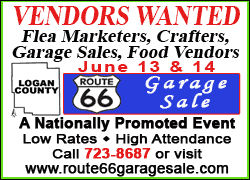 John Buckles of Mount Pulaski will contribute two vocal numbers. A sextet from Zion Lutheran School in Mount Pulaski will also sing. In the group are Kourtney Wilham, another liver transplant recipient, along with Kelsey Wilham, Ashlyn Hickey, Leah Saulsberry, Abby Funk and Julianne Funk.
Instrumental soloists are Kay Dobson of Lincoln on piano, Melane Coulter of Mason City on harp and Rachel Hall of Lincoln on piano. Also listed are three instrumental duets -- Eleanor Gunderman and Shirley Klink of Lincoln on piano and classic guitar; Jake and Sarah Tierney of Lincoln, who sing and play guitar and mandolin; and sisters Laura Lee of Mount Pulaski and Theresa McCormick of Decatur on piano.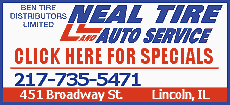 Following the concert, refreshments will be served during a social time. St. John United Church of Christ is located at the corner of Seventh and Maple streets in Lincoln.
A love offering will be collected to benefit Perry Hahn, who still has bills despite having insurance. His wife said that people do not anticipate such expenses as anesthesiologists or other members of the surgical team who do not participate in the insurance plan.
"It's been a long road," said Perry Hahn, "and I still have a long way to go." He expressed gratitude for the help of many friends. For example, neighbors cleaned gutters and mowed the Hahns' lawn, and members of St. John UCC disinfected walls with bleach, painted and brought dinner five days a week for several weeks. "Lincoln is a truly caring community," he said.
Jan Hahn added a thank-you to those who sign organ donation cards and the families who carry out their wishes. There is even a Transplant Olympics, she said, to remind people that organs do save lives.
[Text from file received]