For information on Lincoln Area YMCA programs and events, contact the downtown office, 604 Broadway St., Suite 1; visit www.lincolnymca.org; or call 735-3915. The YMCA Activity Center is at 719 Wyatt Ave.
YMCA notes

Send a link to a friend
[December 13. 2008] The Lincoln Area YMCA is looking for participants for several fun-filled trips to the 24th annual East Peoria Festival of Lights. The YMCA will provide transportation for 13 participants and two staff to East Peoria for dinner and a tour of the holiday light show. These trips are for ages 8 to 11 years old and a special adult trip for anyone 18 and over. Be sure to sign up your child for the New Year's Eve party, which includes a meal, trip to the Festival of Lights and then back to the Y Activity Center, 719 Wyatt Ave., for more fun and games. This event is from 4 p.m. to 12:30 a.m. Space is limited. Sign up now to avoid any waiting lists. Call for more information on dates, times and fees.
Don't miss the Dec. 23 registration deadline for the YMCA Girls Basketball League. Fees increase by $10 after the deadline. The season runs from mid-January to mid-February. The Y is looking for local teams to participate in the fifth- and sixth-grade league, to improve the competition and learning for the girls. Register today to take part in this exciting, learning experience. The YMCA thanks the generous sponsors at Logan County Bank and Graue Inc.

The next Special Art Day at the Y Activity Center will be Jan. 19, 9:30-11 a.m. Children in first through sixth grade will learn about color and will design a tie-dye T-shirt during class. Participants should dress in old clothes for this class and must bring a white T-shirt to class for the project. The class fee increases $3 after Jan. 12.

The YMCA is looking for people to join the Active Older Adults Walking Program. This program is FREE to all participants and is available at the YMCA Activity Center on weekdays, 6:30-9:30 a.m. All participants must register through the office prior to walking. Participants must also sign in daily at the gym prior to walking. Call the YMCA office if you have questions.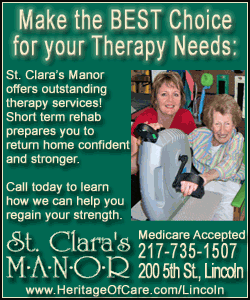 YMCA Cheerleading will be taking a break for the holidays but will start up again in January. There are two performances scheduled at LCHS during the month of January. A Y Competitive Cheerleading program will also be starting for girls in sixth through 12th grade. Contact the Y office with any questions.
Looking for a place for your family gathering, birthday party or work event? Call the Y office today to schedule your gym rental at the Y Activity Center. Rentals are on a first-come, first-served basis.
[Text from file received from Lincoln Area YMCA]