For information on Lincoln Area YMCA programs and events, contact the downtown office, 604 Broadway St., Suite 1; visit www.lincolnymca.org; or call 735-3915. The YMCA Activity Center is at 719 Wyatt Ave.
YMCA notes

Send a link to a friend
[December 20, 2008] The YMCA is still accepting registrations for its 2009 YMCA Girls Basketball program. There is a $10 fee increase for all registrations received after Dec. 23. This Y program works to improve on the girls' basketball skills while the participants have a great time. For more information, contact the YMCA office.
Join the Lincoln Area YMCA for a fun-filled New Year's Eve party with a trip to the 24th annual East Peoria Festival of Lights. The YMCA will provide transportation for 13 participants ages 8-11 and two staff to East Peoria for a meal and a tour of the holiday light show. After they return to Lincoln, the fun will continue with games and other activities at the Y Activity Center, 719 Wyatt Ave. This event is from 4 p.m. to midnight. Space is limited! Sign up now to avoid any waiting lists. Call for more information on this exciting event.

Beginning Dec. 29, the YMCA will take registrations for its 2009 Biddy Basketball League. This exciting learning program is for children 4 years old through kindergarten. Don't let your child miss out on this great experience -- sign them up today!

Don't forget to stop by the YMCA office and fill out your 2009 YMCA membership form. Your membership form allows the Y to give members all the information necessary to participate in upcoming YMCA programs and events. The 2009 membership fee is $33 and runs from January to December.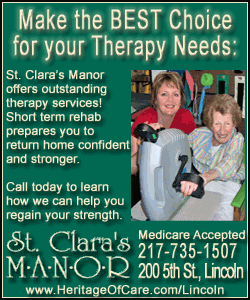 The YMCA Cheerleading program gives girls the opportunity to cheer throughout the year. They meet once a week to practice their cheers and work on their cheer techniques. The girls then perform at local games and community events. The Y has two performances planned at LCHS basketball games for the month of January. The Y will also be starting up a Competitive Cheerleading program for girls in sixth through 12th grade. Contact the Y for more information. Register your daughter soon so she may start in January and be part of this "cheertastic" fun.
Tie-Dye T-Shirt Art will be on Jan. 19, 9:30-11 a.m., at the Y Activity Center. Lisa Madigan will instruct first- through sixth-grade children about "the magic of color," and they will design a tie-dye T-shirt during class. Children should dress in old clothes and must bring a white T-shirt to class for the project! Class fee increases $3 after Jan. 12.
[Text from file received from Lincoln Area YMCA]