For information on Lincoln Area YMCA programs and events, visit the downtown office, 604 Broadway St., Suite 1; www.lincolnymca.org; or call 735-3915. The YMCA Activity Center is at 719 Wyatt Ave.
YMCA notes

Send a link to a friend
[December 26, 2008] YMCA Dodgeball is back! Any third- to sixth-grader who would like to have some fun on Saturday afternoons needs to stop by the Y office to register. Kids will play from noon until 1 p.m. starting Feb. 14. Please sign up before Feb. 9 to avoid a $10 fee increase. Kids, come join in the fun!
Starting Dec. 29 the Y will be accepting registrations for its 2009 Biddy Basketball League. This exciting learning program is for children 4 years old through kindergarten. Don't let your child miss out on this great experience -- sign them up today!

The YMCA Cheerleading program gives girls the opportunity to cheer throughout the year. The girls meet once a week to practice their cheers and work on cheer techniques. They will also perform at local games and community events. The Y already has two performances planned at LCHS basketball games, boys' and girls', for the month of January. The Y will also be starting up a Competitive Cheerleading program for girls in sixth through 12th grade. Please contact the Y if you have any questions. Register your daughter soon so she may start in January and be part of the excitement.

A Tie-Dye Art class for first- through sixth-grade children will be on Jan. 19, 9:30-11 a.m., at the Y Activity Center, 719 Wyatt Ave. Lisa Madigan will teach participants about the concept of color, followed by a hands-on T-shirt tie-dye project. Children must wear play clothes (as they will surely get dirty) and bring a white T-shirt to class for the project. Registration fees increase after Jan. 12.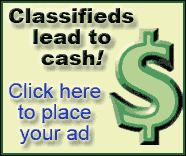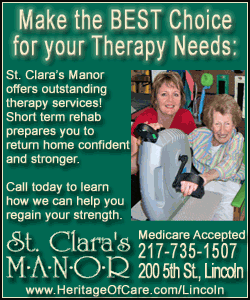 School's Out Fun Days will be offered at the Y Activity Center on Jan. 16 and 19, 6:30 a.m.-6 p.m., for children in kindergarten through sixth grade. The fun and games, lessons and activities will be winter-related. Program fees and details are available by contacting the Y office. Registration deadlines apply.
New on the Web: The YMCA is excited to announce that your Lincoln Area YMCA and David Doolin of Infinity-x.net have just about completed building the new Lincoln Area YMCA site on the Web! The newly developed and totally revamped site will be launched in January. It will have endless possibilities, including online registration, educational videos, helpful links for children and families, etc., but for now all of the current pages have been reorganized to make information easier to find and more user-friendly. For more information, comments or if you just want to give us an idea for the site, call 217-735-3915.
[Text from file received from Lincoln Area YMCA]